[@]

Manchester Theatres

Manchester's Theatre scene is a thriving one. There are three main theatre spaces The Lowry, The Palace and the Opera House and each is easily accessible for the city centre.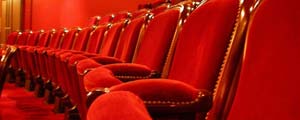 Tickets & What's On?There are small theatre spaces too such as the Dance House, the Contact and the intimate 3 Minute Theatre, in Afflecks, present many independent productions.

Theatre Tickets and What's on? Unlock Manchester's 'What's On?' section provides information and opportunity to get tickets for shows and performances.
Contact Theatre

Contact is where young people change their lives through the arts, and audiences of all ages experience exciting new shows.

They are the leading national theatre and arts venue to place young people at the decision-making heart of everything. At Contact, young people aged 13-30 genuinely lead, working alongside staff in deciding the artistic programme, making staff appointments and act as full Board members.The result is an outstanding, diverse and accessible artistic programme for everyone.

Price:
Visit Website: Click here
Address: Oxford Road, Manchester, M15 6JA
Google Map: Click here


Hope Mill Theatre

Hope Mill Theatre was the dream of couple Joseph Houston and William Whelton. After training and building a career in theatre and time spent living in London, they were inspired by the highly regarded Off West End Theatres and small producing venues which dominate the London theatre scene.

Price:
Visit Website: Click here
Address: 113 Pollard St, Manchester M4 7JA
Google Map: Click here


Manchester Opera House

ATG's Opera House is a centre for touring shows and performances. Check our ticket listings for this months events

Price:
Visit Website: Click here
Address: 3 Quay St, Manchester, M3 3HP
Google Map: Click here


Royal Exchange Theatre

With its circular performance space and audience seating surrounding you can be part of the action. The Royal Exchange Theatre really does offer a unique experience

Price:
Visit Website: Click here
Address: St Anns Square, Manchester, M2 7DH
Google Map: Click here


The Lowry

10 minutes on the tram The Lowry is a theatre and art display space. Hosting national touring shows, arts exhbitions and its permanent LS Lowry Collection this is a must visit

Price:
Visit Website: Click here
Address: Pier 8, Salford Quays M50 3AZ
Google Map: Click here


The Palace Theatre

ATG's Palace Theatre, centrally located on Oxford St, its stage sees major touring shows and performances. Check our ticket listings for this months events

Price:
Visit Website: Click here
Address: 97 Oxford Street, Manchester, M1 6FT
Google Map: Click here