[@]

Deansgate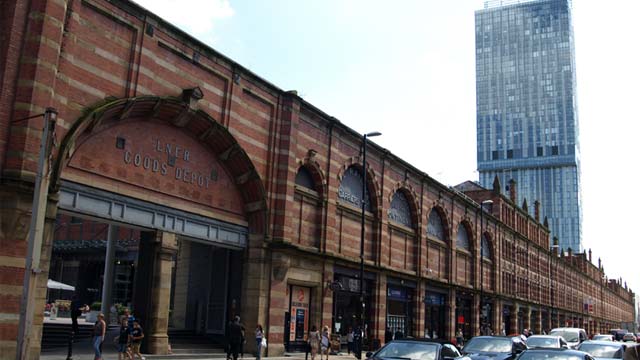 A historic thoroughfare connecting much of the city
Deansgate is a mile long stretch of road that connects pretty much every part of the city centre. If you are ever lost in our fair city, ask anyone the way to Deansgate and you will soon pick up your trail.
It starts (or ends whichever way you look at it) with the Cathedral and ends at the dominating Beetham Tower with a cross section of most central streets in between.
Deansgate is the focal point for many of Manchester's civic celebrations be it Manchester United bringing home the treble, Gay Pride or Manchester Day parades. It has seen Jenson Button roar up it in a Formula One racing car and Usain Bolt set a world speed record. Yes, you are walking in the footsteps of giants.
It wasn't always like this however, in the late 1800s, Deansgate was such a hotbed of vice and crime that many police officers flatly refused to set foot in the locality but thankfully today it has cleaned up its act.
Rising up past the cathedral and marking the start of Deansgate is the uber modern Number One Deansgate complex with swanky apartments that overlook the city centre and it is home to Harvey Nicholls (which can be accessed from New Cathedral Street). Designed by local architect Ian Simpson the building was the helm of the redevelopment project following the IRA bomb of 1996 which obliterated most of the area and came to represent Manchester recovering from this terrible event.
As you walk down Deansgate, cast your eyes up at the buildings above the modern shop fronts and it isn't difficult to imagine the street of yesteryear, only the shop names have been changed.
At this end of Deansgate a crop of bars make it a destination for weekends with venues such as Living Room, The Botanist and Moon under the Water, built in to an old cinema, and this bar has the impressive moniker of being the biggest pub in England.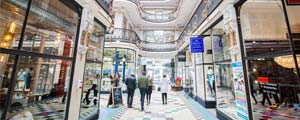 Barton Arcade websiteBarton Arcade is opposite, this lovely Victorian shopping arcade housing high end stores and eateries as well as hairdressers and bars, everything you need for a night out basically. It is worth visiting and taking in the beautiful Italian influenced cast iron work and large glass ceiling.
If you ask someone in Manchester where the House of Fraser is they may look at you blankly, but if you ask where Kendal's is, their face will light up and they will point the way down Deansgate towards a beautiful art deco building.
Its famous name may be long gone but the ultimate Manchester department store will always be named after the original Kendal Milne & Co who brought the leisure pursuit of shopping to the streets of Manchester. It is said that in World War 2, they even had an air raid shelter underneath where coffee was served and gowns displayed, so the ladies of Manchester didn't have to let a little thing like the Luftwaffe stop them from shopping.
You're hitting the halfway mark of Deansgate now so why not nip across the road to Patisserie Valerie, on the corner of King Street, for a well-deserved cake or pop next door to the huge Waterstones and do some light reading. In a world of sterile airport style book shops, this branch of Waterstones is everything a book shop should be with shelves that seemingly go on for miles and comfy sofas were you can sit and weigh up your Austen versus your Asimov.
There is even a coffee shop here if you can't wait to get home to launch straight into your new purchase. The store has an exciting calendar of events including book signings and talks from major authors, quiz nights and 'story time' for the little ones.
Back on Deansgate and things are starting to focus on eating out as we walk down the road and away from the shopping centre of Manchester. Here there are tapas bars, Brazilian buffets and high end burger joints, nestling next to shops specialising in outdoor pursuits and exercise, an irony not lost on many Mancunians.
As you pass John Rylands library to your right is Spinningfields [read the Spinningfields section] and here a space age construction announces Armani's Manchester HQ and to its side is a glass pyramid that is the entrance to Australiasia, a subterranean glamorous restaurant which A-list stars can frequently be seen going in and out of.
Further along the Great Northern Warehouse dominates the street. Formerly a railway warehouse, it is now a leisure complex which contains a multi screen cinema, restaurants, car park, bowling alley and a junkyard crazy golf course (highly recommended).
Below the building lie vast tunnels which connect the Rochdale Canal to the River Irwell and occasionally these are open to the public.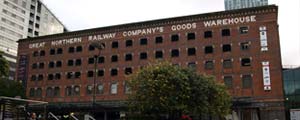 Great Northern websiteOn the Deansgate side of the warehouse, the building houses a long line of shops, primarily estate agents, so if you have fallen in love with our city and can't bear to tear yourself away, this would be the place to find your 'pied a terre' and then you will never have to leave...
Passing the warehouse, you are over shadowed by another Manchester giant the Beetham Tower, designed by architect Ian Simpson.
It stands almost shoulder to shoulder with the Great Northern Warehouse, symbolising Manchester's past and present. As you look up at Manchester's biggest building, it is shocking at just how little street space the building takes up and it was slotted in most impressively. In the tower is the Hilton Hotel, Cloud 23 Bar and an exclusive spa if your feet are aching.
Deansgate is coming to a close now. To your left are Deansgate Locks, a vibrant drinking destination that is never quiet with six bars and a comedy club.
Opposite you is the award winning Atlas Bar, a Manchester stalwart, which offers over 250 different gins to tired shoppers or eager clubbers and to your right is Castlefield with the MOSI, the Roman Fort and the refurbished Dukes 92 and Albert's Shed [read the Castlefield section].
Barton Arcade

Visit Website: Click here
Address: 48 Barton Square, Manchester M3 2BH
Google Map: Click here


The Great Northern

Visit Website: Click here
Address: 235 Deansgate, Manchester, M3 4EN
Google Map: Click here