[@]

The history of shopping
World leading city since the Industrial Revolution
The story of Manchester's role at the forefront of the industrial revolution that helped shape the face of the both modern Britain and Western world as we know it is one that will be familiar to most.
But less well-known is the city's role from the 18th century onwards as a key player in paving the way for the modern day shopping experience. While traditionally goods were exchanged mainly through market stalls, trades such as dry-salters and hat-block makers set up permanent bases here in the 1700s and in turn provided the roots of shopping that still exist today.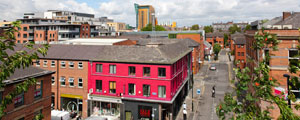 Read our section on Manchester's Northern QuarterThis model steadily evolved over several hundred years with Oldham Street in the Northern Quarter becoming one of the most prolific areas where trades set up shop. Oldham Street has today been reborn as a shopping hub once again – now at the centre of the Northern Quarter's diverse array of alternative shops, vintage stores and the inimitable warren of goodies that is Afflecks.

However the most notable development took place in the 1970s with the construction of the Arndale Centre. This commercial mecca completely transformed the outlook of shopping in the city and set it off on a trajectory that makes it the place it is today.
More than 30 years later the Arndale Centre was joined by the Trafford Centre in 1998 and this added the first out of city shopping experience of its kind in Manchester.