[@]

Afflecks Manchester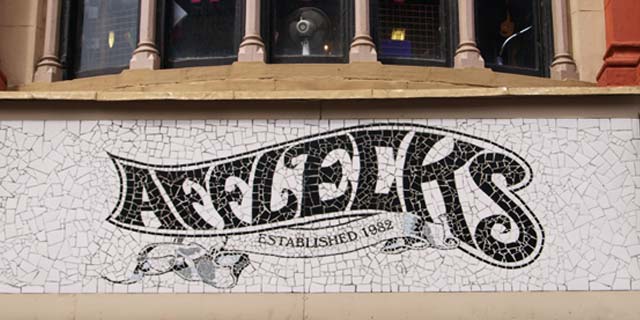 An Emporium of the Eclectic, with over 70 Independent stall holders
Nestled in the heart of the city centre, this emporium of all things eclectic sits as a beacon to those looking for the chic, dramatic, classic, vintage, handmade, unusual and sometimes - downright strange.
There are three entrances to Afflecks, one on Oldham Street, a second on Church Street and on the corner of Tib Street.
It is hard to miss the corner entrance on Tib Street with its wonderful, famous mosaic artwork outside stating 'And on the sixth day God created MANchester'.
Gaze upwards and be inspired by the unique silver tree sculpture that adorns the side wall and the Manchester related mosaic art work sitting in the window frames below it.
Take in the blend of bohemian glam, burlesque sassy, vintage mystery, startling attire or simply savour the friendly and relaxed atmosphere.
There are boutiques of all tastes down every corridor that spread across the emporium's 4 floors. It is a shopping paradise, a labyrinth of discovery, intrigue and mystery through each and every doorway.
Play out your fantasies with fancy dress from sellers such as American Graffiti and that's not all these fabulous stall holders sell either.
Specialist T-shirt printing enables one to design their own - 'Made for It' don't just print on to t-shirts either!
Before you pay top high street prices for that average 'special dress', take time to check out Strawberri Peach on the 1st floor, a gem of a boutique and made-to-measure glam perfectionists, often seen on TV.
Wander into shops specialising in retro gaming and find the most obscure games and items from times past; Star Wars collectables and much more.
Looking for body piercing and tattoos? You cannot go wrong with the experienced The Tattoo Studio or Shiva. Piercing jewellery galore is available at Extreme Largeness and Abacus.
There are several jewellery stores throughout Afflecks, selling beautiful handcrafted wonders you will not find anywhere else.
Afflecks has great food and beverage cafes helping to sustain visitors during their exploration of this vast building and its wares from a traditional café to an adult ice cream parlour serving absinth flavoured delights and a fantastic Cereal Café!
There are specialist shops including one dedicated to fudge of all flavours, retro and American sweets. With a wonderful wealth of over 70 shops and stalls visiting Afflecks is simply a full on shopping sensation.
All this, and more, gives shoppers the chance to walk out with clothing for any occasion, jewellery to die for, tattoos to be proud of and fabulous artwork to adorn ones walls.
Great for buying goodies and presents that are so unusual Afflecks makes every visitor's recommendation list for things to do when in Manchester.
"Afflecks - The Thorn in the side of the High Street"
Afflecks is open
Monday to Friday 10.30am to 6pm
Saturday 10am to 6pm
Sunday 11am to 5pm
Afflecks
52 Church Street
Manchester
M4 1PW
NQ Gallery

NQ Gallery is a unique space set in the heart of Manchester's Northern Quarter, its gallery space exhibits photographers, artists and designers working in, and from, the Greater Manchester area.

Regular contributing artists include Manchester stalwarts Sue Scott, Christian Taylor and Ben Sedman.

Since moving into Afflecks, the gallery has firmly established itself as a 'must visit' destination with a knowledgeable and friendly greeting from gallery curator designer and art director Johanne.

Visit Website: Click here
Address: 2nd Floor, Afflecks, 52 Church St, Manchester, M4 1PW


The Studio

The Studio is one of Manchester longests standing most reputable Tattoo and Body Piercing Studio, located in Afflecks over 10 years. Our artists each specialise in their own style and custom work is our specialty! Walk in's are often available but appointments for larger work are recommended.

Visit Website: Click here
Address: 1st Floor, Afflecks, 52 Church St, Manchester, M4 1PW


Vinyl Resting Place

Tucked away, next to the café on the 3rd floor, this hidden gem has jam-packed shelves of 2nd hand records that will have you spinning.

Flick through albums, singles and cd's from American Blues artists to Zydeco and almost every other genre in-between.

Searching for records is great fun, relive your youth or simply find something you've never heard. While most of the stock is vinyl there are normally over 1500 cd's in stock to rummage through.

Address: 3rd Floor, Afflecks, 52 Church St, Manchester, M4 1PW