[@]

Manchester's Northern Quarter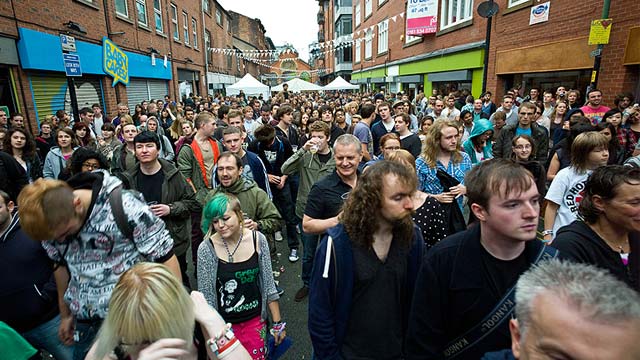 Paul Jones - Exposure Photographic
Manchester's Northern Quarter, a district defined by its location, came into being in the early 1990's. A group of like minded people felt that the city needed a space where independent ventures could offer shopping experiences, entertainment, food and drink, thus the self styled 'NQ' was born.
The Northern Quarter's borders fluctuate a little, however it is generally accepted that they are Great Ancoats St, Piccadilly, the Rochdale Canal and Shudehill.
However, in 2015 a couple of entrepreneurs opened The Cutting Room, just north of Great Ancoats St, in Cutting Room Square and it looks like this is going to be a new hive of activity. That has been joined by Rudy's Pizzas and there are plan to open a Brewery, bars and an ethical restaurant.
Prior to the NQ's inception the area was a maze of disused warehouses and home to the Manchester 'rag trade', which in, recent years, has all but moved out to Cheetham Hill. Other trade establishments included the 'Smithfield Wholesale Fish Market', on High St, and the 'Fish and Poultry Market', both opened in 1873. Today the Fish Market is a residential space and the Craft and Design Centre occupies the Fish and Poultry Market building.
Development of the Northern Quarter has, in the main, been very sensitive to the area's heritage as an industrial zone. Successful efforts have been made to retain the industrial look and feel of the area. These almost abandoned red brick Victorian buildings were ideally placed to be developed into bars, cafes, entertainment and shopping units.
Many of the modern venues celebrate their history incorporating exposed original brickwork, iron columns and girders as part of their design and infrastructure.
Today the 'NQ' offers visitors a cornucopia of attractions, such as independent retailers on Oldham St and Tib St, Craft Beer focused bars, afternoon tea shops, restaurants, dedicated music venues, bespoke Arts and Crafts and clubbing.
The 'NQ' streets and buildings even attract film makers from Hollywood, Pinewood and TV production companies. Marvels 'Captain America' used Dale Street as a New York District and Guy Richie's 'Sherlock' movies found 'Old London town' in local alleys and pathways. So don't be surprised if you turn a corner to discover a 'Lights, Camera, Action' scene happening, you might even find yourself in it if your luck's in.
Shopping:
The 'NQ' is a hive of independent retailers and specialist shops. Oldham St alone offers a tattoo and piercing parlour, retro and vintage clothing stores, vinyl record shops, and a vegan cafe. Tib St has the excellent 'Beermoth' dedicated to craft beers and the bespoke clothing and corset maker Kiku.
To celebrate your inner geek why not while away some time in comic haven Forbidden Planet or if you want to take a new skill away with you, Manchester craft supplies stalwart Fred Aldous on Stephenson Square has its own Ministry of Crafts school.
The infamous Afflecks, on Tib St, is an eclectic 4 floors containing over 70 specialist retailers and indie stall holders, making almost every visitors 'must do' list including Lady Gaga who couldn't resist a visit when playing in Manchester. The fabulous Craft and Design Centre, Oak St, is home to over 30 independent designers' studios crafting a variety of handmade work including ceramics, textiles and jewellery.
Live Performance:
Long before the birth of the 'NQ' live music was performed to appreciative audiences. Band on the Wall, Swan St, so named because a landlord in 1930's installed a band stage halfway up an inside wall, is home to not-for-profit 'Inner City Music' charity. Within its walls you find a full diary of live music and education programmes created to help young and aspiring musicians.
Dry Bar, Oldham St, originally opened by Tony Wilson's Factory Records and New Order now houses Dry Bar Live in the basement. Next door the Night and Day Pub hosts a full diary of live music from touring and local bands.
Meanwhile back on Tib St, Matt & Phreds is the city's premier Jazz venue with saloon like seating, a long bar and raised stage where you will see the very best Jazz performers and touring artists. It is a key venue for the hugely successful Manchester Jazz Festival, 10 days of live music happening across the city annually during July.
If music isn't your thing The Frog and Bucket, on Oldham St, is a Manchester comedy hotspot which launched the careers of Peter Kay, Jason Mansford and Sarah Millican. It has a full calendar of events including supporting up and coming talent and is it stage is on the touring schedule for established comedians.
Food & Drink:
The Northern Quarter is perhaps most famous for its drinking and eating establishments, in fact the choice can be bewildering . Tariff St with a length of a mere 100 meters has 6 venues on one side. This kind of dense packing of bars, restaurants and other venues is the 'NQ' norm.
Almost every bar offers a selection of cocktails, however we like the choices proffered by the American 'speak-easy' styled 'Dusk till Porn' on Stevenson Sq.
Real ales and beers are the staple drinks of the 'NQ', we can recommend Port St Beer House, on Port St or Pie & Ale, on Oldham St, with its vast selection of bottles and its changing selection of hand pulled Manchester brewed beers.
Find 'Beermoth' on Tib St and you enter a beer drinker's heaven. This off licence is small but packed with such an array of imported and specialist ales, beers and ciders you will need a truck to get even a small selection home [for more ideas look in the Food & Drink section].
It's not all drink, for the Northern Quarter can quench your thirst and hunger for afternoon tea, cakes, coffee and handmade chocolates. Try the 'Tea Cup', Thomas St, for afternoon tea, 'North Tea Power', Tib St.
And after 'all that' if you're still feeling hungry? Never fear the 'NQ' comes to the rescue, yet again. Looking for quality food then head to 'The Northern Quarter' restaurant (TNQ), High St, with its locally sourced fish, meat and vegetables you're assured of a fine dining experience.
Trof, 8 Thomas St, offers good pub food, in its nice comfortable spaces, and their traditional Sunday Lunch is always in high demand. Chicken your thing? Then check out 'Yard and Coop', Edge St, its chicken with a 'secret' crumb-coating combined with its 'Chip Shop Chic'.
The 'NQ' has a good choice of international cuisines with several Middle Eastern Cafes on Thomas St or the 'This and That', a simple curry cafe, hidden round the corner from Trof. El Capo, Tariff St, is a Mexicans delight and will re-invigorate even the most tired Bandito with its authentic Tacos and Mexican beer and tequila.
Ning is a Malaysian cuisine restaurant, at the north end of Oldham St. Its menu is a true flavour of Thailand cooking, created by the Formula 1 and Thai television cooking presenter chef Norman Musa. Pizzas maybe 'a run of the mill' choice, however Ply, Lever St, or Rudy's, Cutting Room Square, create great pizzas cooked in a traditional pizza ovens.
Dancing and Clubs:
Many of the Northern Quarters bars have DJ's spinning the decks into the early hours, especially across the Thursday – Sunday weekend. Some of the venues are dedicated clubs and you may need to book tickets to get in. Mint, Oldham St, is a basement nightclub open Fridays and Saturdays until 4am and is home to the 'Funkademia' club.
If you feel like stretching your legs, just on the outskirts of the Northern Quarter is Band on Wall, Swan St where you will find a calendar of diverse musical talent for you to enjoy.
Not the End:
The 'NQ' offers a wealth of experiences and we cannot hope to cover them all, however, these last two are worth knowing about. The Kraak gallery, tucked away around a corner on Stevenson Sq, has a calendar of special events and exhibitions. Looking to hire a costume or outfit for a do? Then check out the Royal Exchange Theatres, little known, costume hire service sourced from its vast warehouse on Swan St.
With so much going on in the Northern Quarter you may need to move here to experience it all.