[@]

Manchester Food & Drink Festivals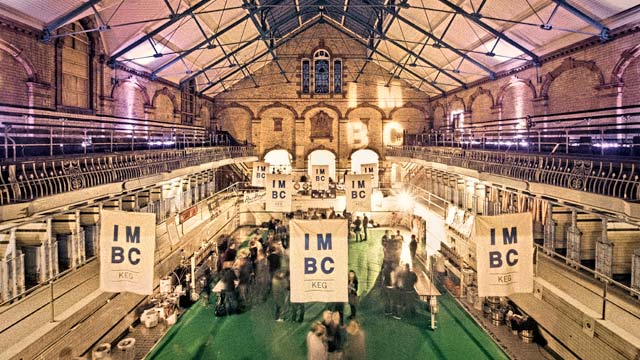 Published: Guide No.17 - April '22
If it's good food and drink you're looking for, you've come to the right place.
Mancunians are hard to please; they know what food they like and they know when it's done well.
It is for this very reason that restaurants that are cheap imitations or using low quality ingredients simply won't cut the Manchester mustard.
Whether it's fine dining, searching for Michelin approval using only the finest ingredients or even if it's finger-lickin' good, street-style tasty morsels served up in newspaper, this city knows how to do food and drink.
The fact is there is so much on offer, for the food and drink connoisseur, that it is hard to know where to start or possibly even when to stop!
Your choices are further confounded once you discover restaurants such as 'Where the light gets in' in Stockport [wtlgi.co], Greens in West Didsbury (regarded as Manchester's flagship vegetarian restaurant) or the recently opened The Creameries in Chorlton.
The Creameries was launched by the Manchester Chef Mary-Ellen McTague. She is a very respected chef who, during lockdown, co-founded Eat Well MCR an organisation dedicated to bringing chef made dishes to vulnerable people across the city [eatwellmcr.org].
In Ancoats Mana is the proud hold of a Michelin Star and several city restaurants hold Michelin Plate awards such as The French in the Midland Hotel, Erst in Ancoats and 20 Stories, Spinningfields [guide.michelin.com].
Inspired by New York's meatpacking district Spinningfields is home to numerous quality restaurants where you'll find menus full of good fare in places such as Australasia, Tattu and The Ivy.
The explosion in interest of beer brewing has brought the city many accolades and it has almost as many brewers and micro-breweries as London, the list is seemingly endless.
Some of our favourites in the city include First Chop brewery based in Eccles, the Manchester stalwart Blackjack (Arch, 36 Irk St M4 4RN) and Cloudwater Brew Co (9 Piccadilly Trading Estate, M1 2NP). Check their websites for Taproom opening times
Manchester ale festivals include The Manchester Beer Week [mcrbeerweek.co.uk], 10th – 19th June, expands across the city's pubs and ale-houses with tasters and events all helping you to discover new and exciting tastes.
The Manchester Beer & Cider Festival, 22nd & 23rd July, boasts over 1000 tipples and will be held in the Mayfield Depot, Baring St, M1 2PY.
It features many breweries from the UK and Europe plus DJ sets from the likes of Goldie, Norman Jay and David Holmes. Drink and dancing what else can one need?
For those cider drinkers check out the Fairfield Cider Fete, last bank holiday in May, held at the Fairfield Social Club, 6 Archway, Temperance St, M12 6HR. Featuring over 20 cider producers you will be able to compare apples with, err apples…
While at the end of September The Indy Man Beer Con returns to the Victoria Baths, Hathersage Rd, M13 0FE.
Before lockdown there where Cocktails festivals in the city that saw local bars competing to create the very best mixes and secure awards such as Best Mixologist.
At the time of writing none are planned but we are hoping that some will return in 2022.
Even so you'll find Manchester bars serving some amazing cocktails, mixed using ingredients you'd never thought of drinking, created by mixologists whose knowledge of the backbar is enough to boggle the mind.
Even with all this drink about, it's amazing the city has any time to think about food, but trust us it does!
Greater Manchester is host to so many Food Festivals that it's pretty easy to stumble across one somewhere in the region.
The daddy of them all is the Manchester Food & Drink Festival, held in September, that said there are several others that are worth getting along to.
Rest assured a quick web search will reveal a wealth of regularly planned food and drink events.
Read on to help plan your Manchester gastronomic opportunities over the next year or so...
Manchester Beer Week
10th - 19th June 2022
Manchester's oldest family brewers will team up to create a range of groundbreaking new beers for Manchester Beer Week, the city's biggest beer festival. JW Lees and Cloudwater Brew Co have agreed to work together for this citywide beer week.
This marks a milestone for Manchester's beer scene and builds a bridge between the city's fast-growing craft beer movement and the more mainstream beer industry.
Locally brewed beers are one of the areas where we can see sustainable growth as craft ale aficionados look for something that tastes different while retaining the passion, history and tradition that makes brewing a quality ale.
Manchester Beer Week is considered unique as it is the first of its kind in the UK and one of only a handful of such events in Europe.
Venue: Bars & Pubs across the city
Foodies Festival - Tatton Park
8th - 10th July 2022
Watch MasterChef Champions, Michelin-starred and top local chefs cooking their signature summer recipes in The Chefs Theatre and see MasterChef 'The Professionals 2021' champion Daniel Lee and 'MasterChef 2021' champion Tom Rhodes.
Learn how to make show-stopping cakes in The Cake & Bake Theatre with expert bakers.
Great British Bake Off stars will share their best baking hints and tips live on stage.
Sample new wines, champagnes and cocktails in The Drinks Theatre. Eat delicious street food from around the world and taste new flavours.
With all day activities such as the chilli eating competitions and food challenges while your kids join in the fun at The Kids Cookery Theatre.
Venue: Tatton Park, Knutsford WA16 6SG
Manchester Craft Beer Festival
22nd & 23rd July 2022
Taking place in the huge Mayfield Depot you willfind the best breweries from across Manchester and beyond.
There should be over forty world class brewers pouring hundreds of amazing beers, ciders and even the odd spirit to tipple your fancy.
This is all in tandam with live entertainment from world renown DJs and vast selection of food special guest chefs cooking at the headline 'firepits'
Venue: Mayfield Depot, Baring St, Manchester M1 2PY
Heaton Park Food & Drink Festival
20th & 21st August 2022
New for 2022 this festival is focusing on international cuisines, street food, Artisan produce held in the vast space of Heaton Park supported by live music and entertainment.
Bring in sweet tasting morsels such as Spanish Churros, smothered in Belgian Chocolate, try artisans cheeses, Pomegranate topped Halloumi Fries.
Vegan? Expect exhibitors offer tempting nibbles for your tastebuds.
With good weather you'll be able to rest your bust feet in deckchairs whilst trying cold beers, spirits and heady cocktails.
Venue: Papel Field, Heaton Park M25 2SW
Bolton Food & Drink Festival
26th - 29th August 2022
Now in it's 17th year this event takes place during the August Bank Holiday.
Here you will find regional and local chefs delivering cooking demonstrations.
Known for attracting some the UK's best chef talent you should see James Martin, the Hairy Bikers and Ainsley Harriot displaying their creative talents.
The event is held across Bolton and there are stalls for food, arts and crafts and plenty of live entertainment.
Venue: Town Hall, Victoria Sq, Bolton BL1 1RU
Manchester Food & Drink Festval
16th - 27th September 2022
The MFDF, is the biggest of them all and in 2022 it will be celebrating its 24th birthday.
This nationally acclaimed event boasts the very best Manchester has to offer.
The autumnal urban event is a vast, sprawling affair in which the entire city goes food and drink crazy for 11 straight days.
Centred upon Cathedral Gardens, free to attend, the public space sees street food traders, artisan bread makers, fine wine importers and a huge tent where you can sample something over 100 ales, beers and ciders.
The main festival stage plays host to a broad spectrum of live entertainment events during the extravaganza.
Beyond this dedicated space restaurants, bakers, cafes and even tea houses become part of the festival.
They create special menus, cakes and drinks to try, all as part of the diversity that is Manchester's foodie scene.
The MFDF awards provide a benchmark for excellence and winners are often propelled into local stardom with their creations talked about by foodies and critics alike.
The winners are chosen from a mixture of public votes, on the nominee lists, and the judgment of a panel of food and drink experts.
Categories include Best Restaurant, Best Pop-Up and Best Street Food with nominations and winners drawn from across Greater Manchester.
If you are in Manchester during the festival take advantage of this great opportunity to get your 'food and drink' on.
Venue: Cathedral Gardens and across the city
Indy Man Beer Con
28th Sept - 2nd Oct 2022
This beer festival is all about celebrating small and independant brewers from across the the UK and an added flavours from international indie brewing houses.
Held in the Victoria Baths swimming pool, hopefully they'll remember to drain it first, this 4 day event will see over eighty taps serving the finest beers on cask and keg.
There are secret tastings, pop-up beer talks and even some special one-off beers created especially for the convention.
Venue: Mayfield Depot, Baring St M1 2PY