[@]

Our Guide to Manchester's Comedy Clubs - Laughter, A cure for all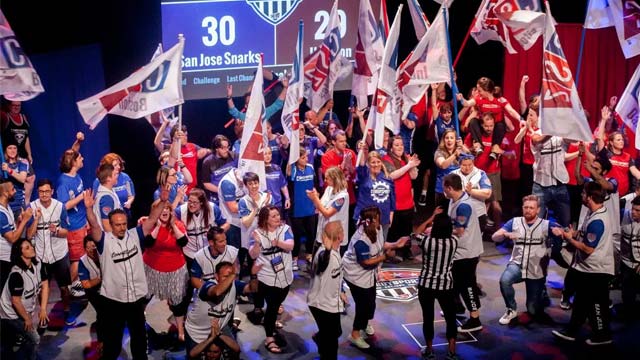 ComedySportz
Published: Guide No.16 - Nov '21
An under-qualified doctor once told me that laughter was best medicine - and perhaps he was right.
Greater Manchester is the birth place to some of the country's best-loved comedians, from the Peter Kay to Steve Coogan, from Victoria Wood to Bernard Manning.
While you may be familiar with most of these names from the TV, before they were on screen most cut their teeth on the comedy circuit, starting out in Manchester. You can visit the very clubs that the greats started out in.
So here's your chance to swap the settee for the real thing, you never know, you might just be the first to see the next Victoria Wood.
Here's some places around the city not to miss.
Comedy @ Chorlton Irish Club
Where better to chortle than Chorlton? For all your chortling needs then Irish Club is the place where laughing isn't a chore but a 'c-ho' okay, you get the point.
But in all seriousness, or lack of, in the circumstance of looking at comedy clubs, this venue celebrates the very best of local talent.
You can tram it there and back from Manchester city centre and in between you will be treated to a whole host of hilarity.
Held every first Friday of the month.
Address: 17 High Lane, M21 9DJ
ComedySportz
ComedySports is something of an unknown gem and has been making audiences laugh since first staged outing in 2001.
Sort of an improvised competitive comedy show; where two teams battle it with quick-witted gags, games, sketches and even songs inspired by the audience.
The 'matches' referee has their work cut-out trying to keep it all in order and issues penalties for bad behaviour or bad jokes.
Held at the Waterside Arts Centre this extremely funny event is usually run twice a month, check website for full details.
The team behind this madness also offer regular workshops on stand-up comedy, improvisation sketching writing and even how to clown about!
Address: The Waterside Art Centre, Waterside Plaza, Trafford M33 7ZF
Web: watersidearts.org.uk
The Comedy Store
Doing exactly what it says on the tin, The Comedy Store is a well-oiled machine creating laughter in the city since 2000.
It is huge venue but it's theatre styled seating and wide stage makes even the furthest seats feel surprisingly intimate.
With its trademark 'Long weekends of fun'.Friday and Saturday are 'Best in Stand Up' and very first Sunday of the month for the open mic night 'King Gong'.
These wannabe funnies will have to beat the gong and win the audience over with their unheard quips and quibbles. Though this club is somewhat pricier, the side-splitting atmosphere amongst the 500-strong crowd is contagious and it is easy to see why revellers head in their droves.
Opening it's doors weekly on Thursdays, it delivers Stand Up comedians by the truck load, often featuring comics at the top of their trade.
The club has it own large bar and restaurant space where you can enjoy such dishes as Cod Loin Baked with Savoy Cabbage or the Welsh Rarebit Pie.
Address: Deansgate Locks, M1 5LH
Web: thecomedystore.co.uk/manchester
The Frog & Bucket
Forget barrels of laughs, here you will have buckets, and why not chuck in a frog for good measure.
With shows four nights a week you are spoilt for choice and their 'Beat the Frog' night will help you fight off Monday melancholy. Each month ten acts compete for your laughs at the open mic night.
One scouser John Bishop, yes him off the telly, happened to be watching here before he found himself on stage 'completely by accident'. He only had one joke, claims four laughed and described the feeling 'like losing your virginity'. Whatever floats your boat John...
If you're watching those purse strings then 'Thursday Night Live' will accommodate but the showcase nights are Friday and Saturday. Should you feel pekish then the Frog's Pizza and Burgers will certainly help to keep your energy levels up for more laughter.
With its large auditorium and the seated balcony, all the chairs afford great views towards the performance stage and hopefully the funniest comedian in town, well that night...
Address: 102 Oldham Street, M4 1LJ
Web: frogandbucket.com
The Laughienda Comedy Club
A relative new-comer to the Manchester comedy scene 'Laughienda' is held at the Lions Den Bar within the Great Northern Complex Deansgate every Thursday, plus free entry too!
Even though the venue is somewhat small it still holds 80 people without much elbowing required, so getting there early is a good idea.
The club mostly focusses on new and emerging talent, honestly with such a small audience space you're unlikely to see big names there.
That said it is well worth checking out and the bar has a good selection of beers and spirits too, this normally helps if let's say the stand is really new...
Address: Lions Den Bar, 235 Deansgate, Manchester M3 4EN
XS Malarkey
Far from a load of nonsense, XS Malarkey is simply the best comedy night on a budget you could ask for.
Held on Tuesday and an entrance fee of just £5, or £3 with a Malarkey Card if you're stopping in the area a while, there is no better Tuesday night out than at The Bread Shed on Grosvenor Street.
The award-winning venue has welcomed Jimmy Carr, Russell Howard and Peter Kay through its doors so the next big stand-up comedian may play in front of your very eyes this year.
XS Malarkey has won the Chortle Award for Best Comedy Club more times than anyone else! While that will entice you in, the extensive menu will keep you satisfied with its selection of pub food classics.
Address: The Bread Shed, Grosvenor Street, M1 7HL
Web: xsmalarkey.com