[@]

Reimagining Ancoats From Gruel to Cool - A potted history of Ancoats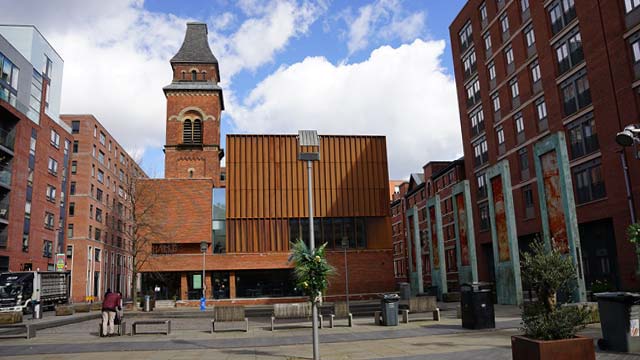 Published: Guide No.17 - April '22
The first Ancoats' mills where built in the late 1700s and when the Rochdale Canal was opened in 1804 it accelerated investment into this already busy and thriving environment.
Workers' accommodation was built door-to-door, on almost any available land, and this frenzied building drove the population to 54,000 by 1851.
It was a mix of locals, Irish and Italian migrants; with such a high percentage of the latter, the area became known as Little Italy. We can recommend the annual Festa della Madonna del Rosario procession, held in July, organised by the Manchester Italian Association.
Did you know? The first ice cream wafer cone was created in Ancoats by Antonio Valvona in the 1890s replacing the unhygienic glass 'penny lick' bowls.
Ancoats was producing cotton, glass and even aircraft, at the Avro factory.
Walking west you would have heard the drone of the Daily Express printing presses, housed in the impressive 1939 Art Deco building on the corner of the A665 and Oldham Road.
It is next-door to the Grade 2 listed pub Crown & Kettle with its ornate ceiling, built in 1734.
The area continued to be a hive of manufacturing and activity until after the Second World War when the decline in cotton sales closed many of the mills. And when the slums where cleared in the 1960s the remaining population was dispersed, leaving the once busy streets to crime and deprivation.
In recent years Ancoats has benefited from major investment, developing these once run-down buildings and spaces into residential districts, sociable squares and offering new business opportunities.
Walking round Ancoats today you will find a very different environment and you can visit some the areas reflecting its history.
For example, Manchester's first municipal housing Victoria Square, built in 1889, and Anita Street, formerly Sanitary Street (the first Manchester housing to have running water, a toilet and sink) which is one of the city's most Instagrammable streets and is a popular film location.
Back in 1884, Thomas Horsfall opened the Ancoats Art Museum to improve the lives of the poor people who lived in the area.
He filled his space with art and sculpture, held music recitals and public lectures, ran trips to the local countryside, back then Wythenshawe.
Thomas even housed live birds and rabbits in an attempt to connect people living in the surrounding slums and working 6 days a week with art, nature and beauty.
It was a very early take on what we now refer to as wellbeing placing Thomas Horsfall way ahead of his time.
42nd Street [42ndstreet.org.uk] drew inspiration from Thomas Horsfall renovating and re-opening their 18th century building in 2016 (after a successful crowdfunding campaign).
The Horsfall, 2 Jersey St M4 6JB, has become home to group work based around the benefits of art and nature on mental health, exhibitions by new and established artists, performances, pop-up shops, special events and much more.
Today most of the derelict buildings have been demolished and many of the old mills converted into stylish apartment blocks acknowledging the names of industrialists of the past such as James McConnell, John Kennedy and Richard Fairbairn.
Cutting Room Square is a new purpose built large public space; it proves a very popular destination on bright and sunny days [and yes we do have them…].
On its eastern side is the impressive Italian Romanesque St. Peter's Church which is now home to the world famous Hallé Orchestra and its choir.
Interested in discovering more about what's happening in Ancoats? Then check out Ancoats Plus [ancoatsplus.com].
Created to reward customers and help business get more from the district; ideal if you're a regular visitor or resident.
One of their regular events is the Monthly Ancoats Market in Cutting Room Sq.
Cutting Room Sq
Even in the early years of the regeneration of Ancoats it was starting to look like it would soon become a new Manchester hot-spot.
One of the first openings was Rudy's Pizza creating a taste of cosmopolitan Napoli, they were quickly followed by Nam, a Vietnamese restaurant offering the essential staples such as pho, Spring rolls Banha, to mention just a few.
Mana, Blossom St, is the only restaurant in the city centre to have been awarded, and retained, a much-coveted Michelin Star. El Gato Negro, King St, is a Bib Gourmand and Canto, Blossom St, Ancoats has a Michelin Plate award, along several other restaurants across the city [guide.michelin.com/gb].
Canto is the second offer from Simon Shaw, Creative Director and Chef Patron of award-winning El Gato Negro, presenting modern Portuguese cuisine.
Just along Blossom St is Elnecot serving a diverse selection of dishes, mostly of meat and fish, and its name is derived from the first settlement there in 1212.
The Hip Hop Chip Shop, Blossom St, menu is full of classic dishes, plus many other delights, created in a modern style.
Try the mouth-watering Bklyn Masala Fish which boasts Curry battered fish served with Bombay Chips accompanied by Indian chutneys. The 'Hip Hop' part is a small, yet busy, live music/entertainment space [thehiphopchipshop.com].
Across the road is Blossom Street Social where celebrated Masterchef star Caroline Martins is the brains behind some of the most stunning Brazilian food imaginable and an extensive and carefully curated wine list.
Talking of drink, Cutting Room Square is home to the Seven Bro7hers Beerhouse pouring beers brewed by the successful McAvoy brothers; or try a glass of Sis4ers Gin made by their four sisters.
This busy bar serves excellent food, offers beer tastings and regularly hosts live music.
Almost next door is the recently opened Edinburgh Castle, good for a tipple or two and should you wish to take some interesting real beers home a stroll around the corner to the specialist off licence Epicurean.
Here you will find shelves packed deep with choice to delight any budding beer drinker.
We have mentioned a few of our personal favourites and I should give a special mention to the Chinese restaurant Blue Eyed Panda, the food there is always of an excellent standard.
Islington Marina
New Islingtom Marina is now the centre piece for the redevelopment of the Ancoats district and it actually comprises of two basins that connect the Rochdale and Ashton Canals.
These canals where important thoroughfares for the shipment of goods and materials to and from the 'dark' mills of Lancashire and Manchester, which then connected to Liverpool the Industrial Revolutions gateway to the world.
This hive of activity was soon joined by the slums of the Ancoats district which Fredrich Engels described in his book 'The Condition of the Working Classes in England' (pub. 1845) as:
'No more injurious and demoralising method of housing the workers has yet been discovered'
In 1801 the first census revealed the Ancoats population was about 11,000 but by 1861 it had risen to 56,000; clearly this was a very cramped space to try and live in.
By the 1930s the slums, and derelict buildings, where being targeted for demolition. Even then the housing stock was described as 'grossly unfit' but it wasn't until the early 1960s that the wrecking balls started to swing. This is about the same time as Coronation Street, Granada TV's seminal television drama and social study, was first being aired.
On Great Ancoats the old Central Retail Park has been demolished and there is a current £37m plan is to build a new neighbourhood, on this large open space, with 'Cotton Field Square' at its heart.
Should this plan proceed then it will cap of the redevelopment around the marina and further drive demand what is certainly no longer any form of urban slum.
Ancoats and New Islington Wharf are well worth the visit and you will experience this 'new feel' space and discover some of the more recent budding enterprises that have opening in many of the redeveloped mills and buildings.