[@]

Hidden Manchester Bars and Good Beers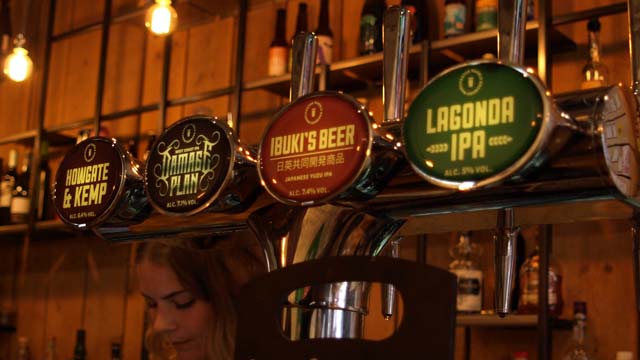 When it comes to craft ale, Manchester is thriving. The city has become a hub of microbreweries and cask ale pubs in which beer lovers are flocking to try. With many Mancunian pubs boasting an impressive selection of new ales every day from across UK, we take a look at some of the hidden gems you may not find in the usual guide book.
When you think of Manchester's trendiest nightspot The Northern Quarter you may be fooled into thinking it's a cocktail-lovers paradise. Yet nestled between Stevenson's Square and Great Ancoats Street is Pie And Ale which has an impressive six rotating casks sampling some of the best ales Manchester has to offer.
Also not one for missing out on some of the best beers from London, the fridges stock a selection of Beavertown ales such as Gamma Ray, a stunning American pale ale, and Smog Rocket, a smoked porter, to mention just a few, yet it is their local tipple which the bar reserves for the hand pulls.
Some of their favourite city breweries include Track Brewery with their stunning golden Sonoma ale and rich Toba stout as well as Cloudwater Brewery's Double Dipa IPA - a 9% ale sure to knock your socks off.
'When it's gone it's gone' – giving the typical ale lover a new beer every time they visit this CAMRA approved pub with new beers being showcased here every day.
Another fan of Manchester made beer is the alternative brewery First Chop, located in Eccles. Their beers, many now gluten free, are all brewed in house and the team are becoming a powerhouse in the world of craft ale. Try the Hop - their classic golden hoppy ale, or their new creation POP, a refreshing twist on an IPA made with fruity Hops, US yeast yeast and orange oil.
Moving further toward Ancoats, and further South with its beers choices, is the Crown and Kettle (a Grade II listed building) on Oldham Road, another CAMRA favourite which often showcases an array of southern breweries to rival their Northern counterparts.
Recently it has offered a delicious golden ale Sundowner by Wild Weather ales, better known for their Sour peach ale and the Prince Ale Kiss. Big fans of Somerset brewery Wild Beer and Shrewsbury ale makers Siren whose Oatmeal pale Undercurrent is a common sight in many a bar fridge across Manchester.
The Crown and Kettle host occasional London beer festivals with favourites from breweries such as Kernal, BBNo and Siren whose recent creation Vermont Tea Party ale really hits the spot with its floral notes and hoppy earl grey tea and lemon taste.
Yet fans of the Southern tipple will be glad to know that it is not only The Crown and Kettle to have such an impressive selection. Cafe Beermoth is tucked away on Spring Gardens very close to the Arndale Centre yet is often missed by ale trail enthusiasts.
The bar, which began as a small specialist beer shop in the northern quarter selling Belgian, American and UK craft ales, soon grew and boasts a huge range of cask and bottles worldwide.
Like the Crown and Kettle, they too are big fans of Siren and Wild Beer brewery. In particular the rich Millionaire stout, which describes itself as Millionaire Shortbread in liquid form with lashings of salted caramel and chocolate, and the better-known Bibble, an American amber session ale full of hops and flavour.
Cafe Beermoth present regular ale talks and tasting sessions to anyone who wants to know more about the world of microbreweries; this is a great way to spend an afternoon with your mates.
Venturing back toward the Northern Quarter, The Smithfield Tavern, located close to The Crown and Kettle, owned by Blackjack Brewery, who are creators of The Pokies ale. This quiet night-time haunt is only open in the evenings but makes up for it with its low prices and an impressive mix of UK craft ales.
Never one to miss out on a good ale, it selects its tipple from all across the UK. The pub will more often than not be selling an ale from its famous Mancunian brewery as well as some other gems such as Brewed by Number's Motueka and Lime Saison (this one is a little sour), or Wild Beer's hoppy Pogo.
Their ever-changing ale selection is testament to the variety of the beers that they select carefully based on popularity and price. There is always a beer to suit everyone here.
But if it is big city lights and a crowded ale house you're after you can still enjoy traditional ales in Brink Bar located close to Spinningfields, a basement bar which only showcases beers within a 25 mile radius - a promise it has made since it opened in early 2016. The cosy pub is bright and quiet but fiercely proud of its Manchester microbreweries.
It is easy to miss as it is not well signposted but when you do you will often find a Beer Nouveau favourite such as their simply named Pale - a beautifully crafted 5% session ale or their darker and smokier Satanic Mills.
And if you're keen to move on, up the stairs and across the road from this white modern ale house is The Gas Lamp, a complete opposite from Brink with its dimly-lit Victorian decor and shabby chic furniture. Self described as a subterranean drink den, this after-work favourite offers both cocktails and great beer - it is rare not to find a favourite from Track or Blackjack here.
And finally the list would not be complete without The Marble Arch. It has become legendary on the ale trail circuit, and is better known for its Earl Grey IPA, a 6.8% stunner which may not taste as much as the tea as some may think, but is smoother than the ABV suggests.
Stocking its own brews, many priced at under £4 a pint, you should also try its great food and an even greater beer garden. We recommend you get down early if you fancy a pint on a sunny afternoon here.
So there you have it, our definitive list of some of the great hidden Manchester pubs housing some of the UK's best craft ales. From Spinningfields to the Northern Quarter, the industry is booming and it is exciting to wonder where it will be in the coming years.
Danielle Paisley
Manchester writer and Publican