[@]

Manchester and Football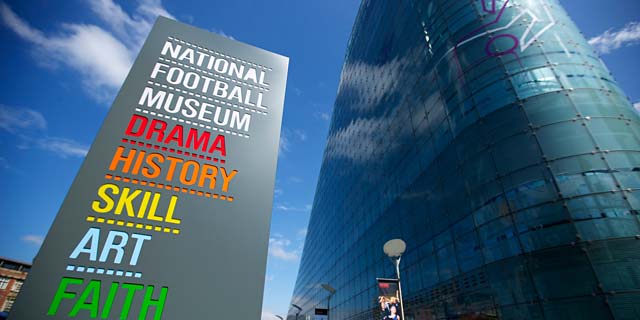 A world famous destination for football
You can't escape football in Manchester. Whether it's being televised in bars or witnessed in the street, the sport is one of the most popular pastimes for Mancunians. From August to May there's at least a handful of professional games being played each weekend, and more often than not there's one during the week. Basically, the city is a sanctuary for soccer fans.
Manchester United
Manchester United are arguably the world's most famous football team. Which is only fair since they've bagged more titles and accolades than any other club. Known as the Red Devils, the squad has been home to the finest athletes ever to play the beautiful game. The list includes George Best, David Beckham, and their current captain, Wayne Rooney. Man U's stadium, Old Trafford, is the second largest in the country and is regularly open for tours.
Manchester City
Every sports team needs a staunch rival and Manchester City have been a suitable foe for more than a century. Having lived their fair share of ups and downs, the Blues have experienced a resurgence of success after a string of high profile victories in the last decade. The squad originally played at Maine Road in Moss Side for more than 80 years before moving to their new home, the impressive Etihad Stadium, in 2003. Like Old Trafford, the huge campus also offers tours.
Derby Day
Manchester truly is a tale of two cities when Derby Day swings around. Twice a year the dueling clubs meet at their respective stadiums for the most hotly-anticipated game of the football season. If televised there's usually not a single pub that isn't bustling with fans that are cheering their side on. Over the years the rivals have faced off in a number of nail-biting encounters, whether it be for league position, a trophy, or simply pride.
Out of the City
Despite Man U and Man C routinely dominating the Premier League, other teams have managed to achieve their own success. The Greater Manchester region has an extensive number of football clubs, including Bury, Oldham Athletic, Wigan Athletic and Bolton Wanderers. Each boasting their own stadium, the smaller squads offer a change from the 'big two' while playing just as often.
Football History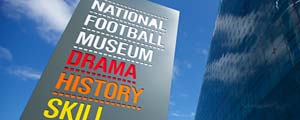 Read more about the National Football MuseumIf you get caught up in football fever (which you will) then the Manchester City store on Market Street will be your best place to bag a souvenir.

History buffs will want to stop off at the National Football Museum based at the Urbis. Here fans will find a varied collection of memorabilia from all walks of the sport.