[@]

A Mancunian Music Experience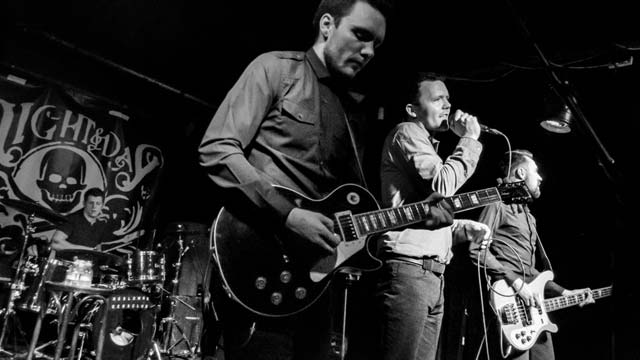 Picture - Billy Deagrove
A hearty slice of Manchester Music
If you were hunting for the authentic Mancunian live music experience, then there's so many options on the table you could be easily overwhelmed and spoilt for choice. There are so many live music venues in the city with jam packed bills of local and international touring talent you could be swamped and be unsure where to go.
But there are two places that have consistently brandished the torch of the undying Mancunian passion for live music. Just off Piccadilly, at the bottom of Oldham St, you could bump into people from every nationality in the world and a fair few oddball characters.
But if you walk 500 yards in a northerly direction, you will walk straight into the beating heart of Manchester's music, art and creativity and you will find on the right hand side The Night & Day Café established by a mad Dutchman in 1991, situated right next to the now closed Dry Bar (which is itself a part of Mancunian music folklore from the Madchester era).
With a laid back, unpretentious but quirky ambience you could say that every decent band within the last 3 decades have been through its doors at some point including the odd Hollywood movie star such as Keanu Reeves.
Having played host to over tens of thousands of musicians during its 20+ year span in all genre's from indie to folk, jazz to electronica, the Night & Day has had real international stars performing there such as; Arctic Monkeys, MGMT and Mumford & Sons on their rise to the top of the music hierarchy.
It is also still the local haunt of the established Manchester superstars such as Guy Garvey, Johnny Marr and Liam Fray. So for an authentic look at what's going on in the Manchester music scene which is often, very out of step with the rest of the commercial pop world, I would head firstly to Night & Day Café.
However, if you were to just turn up, off the cuff and whatever was going on on stage wasn't tickling your fancy then not much further along the same street you will find The Castle or Gullivers, both music venue bars, charmingly unique of character and deadly serious about their live music they will certainly provide you with a similar night of great new music.
Now if your taste is more traditionalist then Matt and Phred's could be right up your alley. Located only a stone's throw away from Night & Day between Oldham St and Tibb St with its entrance on Tibb St you walk into a dimly lit, dive style Jazz club with a small black curtained stage and red painted walls giving the place a certain intimate romanticism.
It boasts live music six nights a week with only a door charge at weekends and like Night & Day it also has had its fair share of star performers like Adele and Jamie Cullum. It is mainly a Jazz club but you could get to see some Blues, gypsy, swing, soul, folk, electro and funk depending on the night.
Their website mattandphreds.com will show you what's coming up in future and on some nights the place can get packed so booking a table in advance could be a wise move. Cocktails and Pizza are the specialities of the house, they even have a pizza named The Charley Parker and they serve food until midnight, sometimes even giving away free pizza during happy hours.
The place has a real style about it, it obviously takes its music very seriously but is not too elitist and pretentious in that the only pipe smoking, waistcoat over a t-shirt, flat cap wearers are usually the musicians themselves.
It has a very mixed range of ages which is testament to its popularity, but you find that on busy nights' people have to just bunch their chairs together and get cosy.
These two much cherished venues are definitely some of the foundations that Manchester's trendy Northern Quarter has been built on.
If you think that Manchester's most popular cultural exports of the modern age are music and football then you can step into any of the aforementioned venues and get a real up close and personal taste of the ever bubbling Manchester musical melting pot and maybe even rub shoulders with a great or two or maybe even the rock and roll stars of the future.
Denis Fergie