[@]

Afflecks Manchester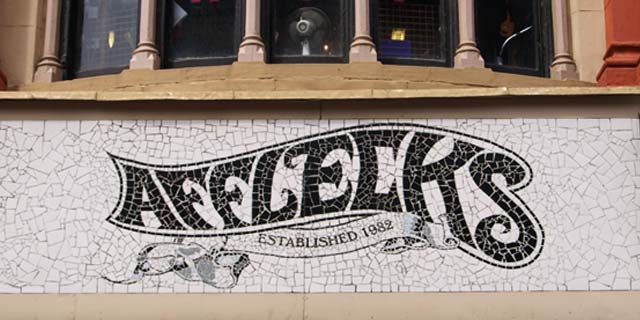 An Emporium of the Eclectic, with over 70 Independent stall holders
Nestled in the heart of the city centre, this emporium of all things eclectic sits as a beacon to those looking for the chic, dramatic, classic, vintage, handmade, unusual and sometimes – downright strange. Its main entrance is located on the corner of Tibb and Short Street with a further entrance on Oldham Street.
On approach it is a rather unimposing red-brick building, however this is no pointer to the world of magic awaiting visitors on the inside. It is hard to miss the corner doorway with its wonderful, famous mosaic artwork outside stating "And on the sixth day God created Manchester", gaze upwards and be inspired by the unique silver tree sculpture that adorns the front wall.
Afflecks is a jewel of Manchester and should be a destination 'must' whilst visiting the city. Take in the blend of bohemian glam, burlesque sassy, vintage mystery or simply savour the friendly and relaxed atmosphere.
There are boutiques of all tastes down every corridor that spread across the emporiums 4 floors. It is a shopping paradise, a labyrinth of discovery, intrigue and mystery through each and every doorway.
Goth or Punk to your taste? If so there is a wealth of choice and visits to Freak Boutique, Dark Light, Punk'd Image, Elysia and more will guarantee a unique outfit at that special gig.
A mecca of unequalled proportions for Vintage clothes and accessories fans and hunters. Milner & Son, Grin, Vagabond Vintage, Zeffa and many other independent retailers and stall holders are able to respond to the quest for Vintage and 'Kit you out'.
Play out your fantasies with fancy dress from sellers such as American Graffiti, Attic, Rubber Plantation and that's not all these fabulous stall holders sell either.
Before you pay top high street prices for that average 'special dress', take time to check out Strawberry Peach, 1st floor, a gem of a boutique and made-to-measure glam perfectionists, often seen on My Big Fat Gypsy Wedding.
Wander into Retro Play and find the most obscure games and items from times past; Atari games, typewriters, Top Trumps, Starwars characters – your kids will love you.
Looking for body piercing and tattoos? You cannot go wrong with The Tattoo Studio, Abacus and Shiva. There are several jewellery stores throughout Afflecks, such as the handmade wonders you will spy on Flowellery or the huge array of choice in Extreme Largeness.
Afflecks has great food and beverage cafes helping to sustain visitors during their exploration of this vast building and its wares. On the 3rd floor is the long established Café 3, creating milkshakes that are an absolute must try. The famous Blackmilk Cereal Kult, now having its own space, and the renowned Ginger Comfort Emporium both offer tasty fare ensuring that shoppers do not go hungry.
With a wonderful wealth of over 70 shops and stalls such as Cyberdog, Pop Boutique, Biggabagga, Moloko, SWALK Creative Presents, The Bead Shop, Chocolate Ape visiting Afflecks is simply a full on shopping sensation.
All this, and more, gives shoppers the chance to walk out with clothing for any occasion, jewellery to die and tattoo's to be proud of. Great for buying goodies and presents that are so unusual it will makes every visitor's recommendation list for things to do when in Manchester.
Afflecks
52 Church Street
Manchester
M4 1PW