[@]

Blues and Beer Weekend - Band on the Wall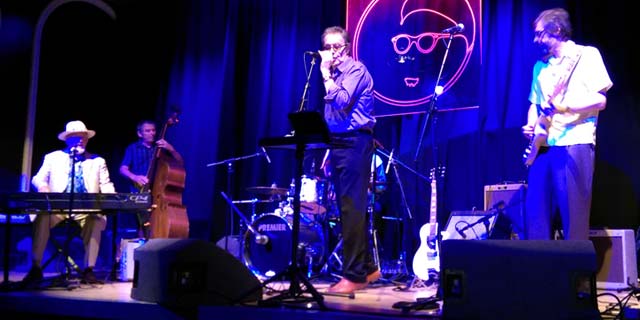 Band on the Wall is one of Manchester's best known and longest standing music venues, albeit having been closed for a number of years around the millennium. A campaign raised money and awareness to open and return it back to being a great place to see local and touring bands.
It is located on Swan Street, the north most section of Manchester's trendy Northern Quarter. The venue has a large public section with a bar and seating with concerts and gigs held in the main auditorium.
I have seen many gigs and events at Band on the Wall it delivers a great sound and atmosphere while retaining an intimate feel for both the artist and audience alike.
Last weekend, 17th & 18th July, Band on the Wall held a Beers 'n' Blues event. The concept was simple bring in about 20 real ales all brewed by Manchester breweries and put on 3 blues bands. As it turned out this was a good idea.
Friday night saw James Hunter perform. James is a very established musician with his last two albums being Grammy Award nominees and he has toured with Aretha Franklin, Etta James and Willie Nelson. He and his band deliver a classic blues sound with modern overtones.
Saturday was a different feel, playing where 'Walk' a two piece, featuring Rik Warren on lead vocal and guitar and David Schlechtriemen on drums. Playing two sets Walk delivered strong blues themed songs with what sounded like a 'Creole' vocal delivery style, drawn for the southern states of the USA.
At the end of the Walk set we retired to the bar to sample the beer festival part of the event. It was stocked with a good selection of casks from Manchester brewers such as Ringwood, Green Mill and First Chop.
In the evening the 'Cadillac Kings' where performing, who are a 5 piece blues and swing band. Writing and performing mostly original work, with the odd cover thrown in, this band will delight you with their sound and possibly even encourage you to try dancing!
The set included the 'Trick of the Blues' a song describing how unfortunate Mike Thomas's life has been... he's the vocalist. I am confident that Tim Penn, on keyboards, will always get a mention for his excellent piano playing and slightly flamboyant performance style.
The Cadillac Kings where a great hit with the audience and I can safely say that if you like blues and the swing genre then you're in for a treat.
The whole weekend was good fun and Band on the Wall certainly know how to cater for it audiences, so watch out for the return of this event and others like it.
Reviewed by Unlock Manchester on .
Rating: 4
Band on the Wall Manchester
25 Swan Street
Manchester
M4 5JZ