[@]

Express Lunch at Umami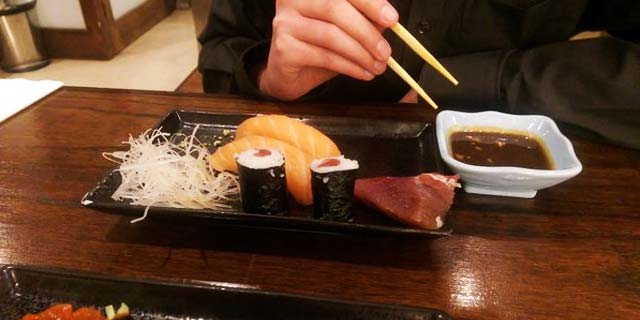 Umami is an Asian fusion restaurant on Oxford Rd, next door to the Aquatics Centre and opposite the RNCM. There is a small entrance and the main restaurant space in the basement of the building.
The tables are laid out in a grid pattern each seating 4 people with bench seats. Even though it is underground the space feels open and light. The waiters are welcoming, efficient and polite.
Umamis' major attraction is that the food is always good and they have an excellent value 'lunch express menu' which is available between midday-3pm. You get to choose a starter and a main course from a selection of about 6 of each, all on the main menu, for only £5.95 per person (at time of writing).
A word of warning, this is a very popular place and if you arrive around 12.30 or so you can expect to wait for a table. After about 2pm the demand eases up and space is more readily available.
So, you are wondering, what is the food like? Today I had the express menu opting for the Grilled Say Chicken Wings starter and the Sing Chow Vermicelli. The Chicken Wings did in fact arrive in an express fashion and where flavoursome without being dried out.
The Vericelli ingredients are king prawns and pork served in a fine rice-noodles with vegetables all in a spicy curry sauce and was accompanied with a Tsing Tao beer, yummy! My partner selected the Vegetable Udon, a great way to make you think that you are being healthy...
We eat here regularly and I can thoroughly recommend the Ramen dishes that also appear on the express menu. The regular menu prices are very reasonable too, for example the Udon is only £7.95 and the portion sizes are good to generous.
Umami also offers a good and fairly extensive sushi menu. Most of the dishes are between £2.50 and £3.50. The Umami Platter is very good value at £11.95 and it includes 6 sashimi, 3 nigirl sushi and 4 maki sushi. All of this should be washed down with a glass, or two, or warm saki.
Finally, I think I should mention the take-away service which offers huge 20% off the main food menu.
Reviewed by Unlock Manchester on .
Umami
149 Oxford Road
Manchester
M1 7EE