[@]

Caribbean Rum infusions at The Liars Club
Just north of Spinningfields, at the end of a small and somewhat darkish alleyway you will find The Liars Club. Its entrance, enclosed by a bamboo clad wall, is around the corner from Mojo and Crazy Pedro's on Back Bridge Street.
The bar is in the basement of the building and has long been an 'after dark venue' with the space previously being known as the Purple Pussy Cat Club. It is styled to feel like a tropical hideaway, complete with palm trees, more bamboo and Tiki heads, it doesn't take you long to adapt to this relaxed environment.
The Liars Club big attraction, apart from the party atmosphere, is its drinks list which includes some fabulous and highly theatrical cocktails, created in a similar fashion by the bar staff.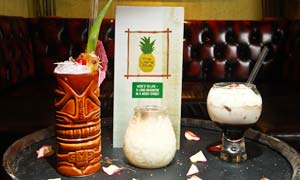 Not sure what to try? We can recommend the Zombie, possibly the Tiki drink, with its mix of Rum, Absinthe, tropical juices, liqueurs and lots of Fire.

Many of the cocktails are great for sharing and you could easily spend a night sampling these heady drink delights with friends.
Your bar staff will be able to educate you in the ways of Rum drinking. Another appeal of The Liars Club is its extensive stock of high quality rums, sourced directly from the Caribbean and Central America. These rums are certainly used in the cocktails, but to a get real flavour the approach is to drink them as 'sipping' rum, a single shot, over a piece of ice.
Keeping away from the mass produced, world famous rums, such as Bacardi or the Havana Club spirits, you will discover an excellent selection of rums from specialist quality producers.
It can be difficult to select a sipping rum, without knowing what you actually like, however you should do very well if you order any of these El Dorado 15, Appleton 12, Mount Gay XO or the Diplomatico Reserva. Or you could just ask the bar tender for their recommendations, such as the excellent Antigua sourced English Harbour 5.
The Liars Club, as mentioned before, is a late night venue opening everyday from 5pm until 4am. If you arrive 'early', say before 11-ish, you are likely to find the bar quiet, maybe just a few people enjoying cocktails in the booths. Don't be fooled, this place fills up every night and expect it to be heaving by midnight, with customers after drinks and wanting to dance.
There is a second bar counter the opens late on, to help alleviate the crowds that build up at the small main bar. The bar also offers off-licence services letting you buy bottles directly.
Every time I go to The Liars Bar, I say 'let's have a quick drink in here', although it never turns out to be quick. The bars atmosphere keeps you warm and happy while enjoying some of the nicest drinks in Manchester.
Reviewed by Unlock Manchester on .
Opening Information:
Everyday 17:00 – 04:00am