[@]

Stresa at the Ramada Salford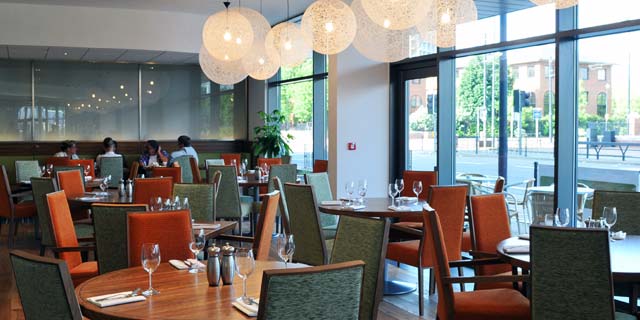 "What, why, where?" as the tram pulls out of Salford Quays "sighs, there!" and I point to building directly opposite the tram platform. We are off to see War Horse at the Lowry and not 10 minutes, since leaving St Peters Square, I said "let's go to Stresa for a pre-show meal".
Stresa is the restaurant within the Ramada Hotel, Salford and it's only a couple of minutes walk from the platform.
Although it's a hotel you don't get that feeling with its welcoming and friendly staff. The reception area looks more like a restaurant with a bar with plenty of seating and the sun shines through the big windows and the space feels bright and cheery.

Stresa is an attractive restaurant laid out with good sized tables, comfortable dining chairs and the lights are large mesh balls all working together to create a contemporary style.

The Italian emphasis menu, which alters on a daily basis, has a wide range of choices offering something for everyone with selections including fish, meat, pizza and pasta dishes.

Being three of us this gave us an excellent opportunity to try the menu. I started with the mussels in a white wine sauce, warning the portion size is huge, great for sharing. We almost ordered two soups, but after a lot of giggling, we ordered a soup and the fried brie wedges.

The starters arrived in a timely fashion and where very tasty and complemented our glasses of pinot grigio. Their drinks menu has a good selection of wines and also
offers cocktails, beers or soft drinks.

The waitress brought our main courses over, I had ordered the cod, it came with a compote of potato, tomato's and kale. My friends ordered the lemon and thyme chicken and a pizza, yes exciting I know. Each portion was a good size and presented with a fine dining style.

It was clear that the ingredients where fresh and each meal was created and presented with care and attention to detail. The side order of steamed vegetables made a great addition to the meal.

It was getting close to curtain up and we left to catch the tram to the Lowry, only a few more minutes along.

I can safely say that everyone had a good time and enjoyed the pleasant venue and excellent food. I thoroughly recommend that you try Stresa. You will not be disappointed.
You can read more about Stresa by clicking here.
Reviewed by Unlock Manchester on .
Address:
Stresa:
17 Trafford Road
Manchester M5 3AW
Opening Information:
Daily: 12.00pm - 10.00pm