[@]

Solita Bar and Grill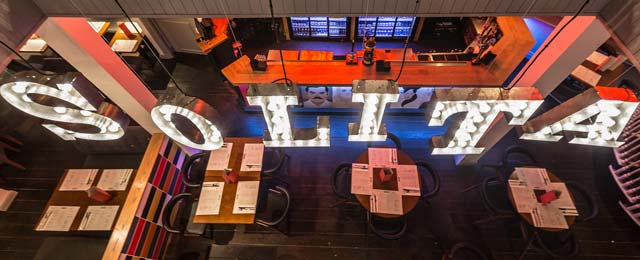 Tucked away on a back street in the Northern Quarter is Solita and what they describe as the 'Home of the Big Manc'. Located in an unassuming block, on Turner Street, the restaurant has a ground floor with tables and a bar plus a basement with more dining seating.
The restaurant is normally busy, so getting a table upstairs, on busy night, might prove difficult. However, the basement is well lit and comfortable, just look for the large 'SOUL' sign above the stairs.
The Solita vibe is friendly and relaxed, but keep in mind this is gourmet 'fast food' so be prepared to move on after you've eaten. Solita's focus is on its food, offering 'Little Italy', read American style, steak, burgers, hotdogs and fish.
The Solita bar delivers good cocktails, reasonable house wines, beers from Germany, America and Spain and a very drinkable IPA called 'Soli-PA' crafted exclusively for them by Manchester's Brightside brewery.
Feeling hungry we opted for the Ribs, Wings, Rings and Things mixed start platter. Arriving on a large board the ribs and wings where coated in a BBQ sauce accompanied by jalapenos and grilled sweetcorn a good, if somewhat messy, start to our meal.
Solita source their beef from local farms in Cheshire and it is aged for 40 days. You can check what weights of steak they have on the daily blackboards. We selected the 'Solita Burger' a classic fast food burger served with French fries and the 'Lone Star' hotdog.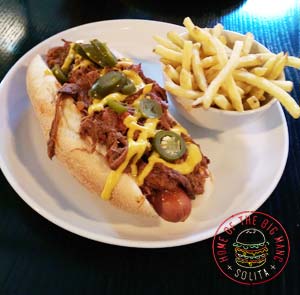 The burger was a tall affair, a grilled beef burger with a salad dressing, cheese and the house relish.

The Hotdog was a surprise, this big grilled dish has a hotdog hanging out of a good sized roll plus pulled pork on top to finish it off and fries. Certainly a dirty hotdog combo if there was ever one.

On the next table a customer had ordered the 'Widowmaker' hotdog which is truly vast, landing in at a whopping 24 inches, complete with cheese, fried bacon and jalapenos, try it if you dare...
The menu does offer a small selection of salads, vegetarian food and non alcoholic drinks. You can even upgrade you fries choice. The desserts are a little limited but there is Cheshire ice-cream and the molten chocolate cake, if you can face it!
Solita makes an excellent start to your night out and could be ideal if you are looking for somewhere to eat prior to going to the Manchester Arena, or if you just fancy that dirty dining experience...
Reviewed by Unlock Manchester on .
Opening Information:
Mon to Thurs: 12pm to 10pm
Fri: 12pm to 11pm
Sat: 11am to 11pm
Sun: 11am to 10pm