[@]

Manchester House Lounge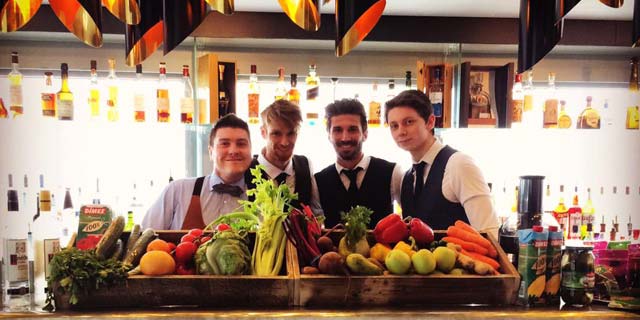 Spiningfields is packed with many good bars and restaurants, with some less easy to find than others, the Manchester House Lounge is one of those 'hidden' gems. Occupying top floor of the attractively named 'Tower 12' it offers a plush environment with great views across the city of Manchester.
The space is defined by a large bar, running along the west side of the building, with its back drop being Manchester viewed through a glass wall. The bar extends into other open spaces, such as the lounge where booths and seating are again complimented with full length glass walls looking across Spinnigfields and beyond.
The southern side of the space has an outdoor terrace and 'private' booths where you can even attach your music player to a music system and enjoy your personal playlists. All of this certainly makes the short journey to the top floor in the elevator worth the trip.
This is a 'Living Ventures' project, who are known for creating stylish venues and delivering panache. The Manchester House Lounge is accompanied with Aiden Byrne's restaurant on the 2nd floor, a review for another day.
Today, Unlock Manchester, are here for the launch of another Manchester original the Thomas Dakin Gin. Thomas Dakin was Warrington born and bred and in 1761 he started to distil gin in Bridge Street and is widely viewed as the forefather of quality English gin.
At the time this was a bold move as gin had a somewhat sordid reputation, a topic Hogarth addressed in his famous drawing 'Gin Lane' in 1751. Maybe Thomas was lucky, because just as he started to distil gin, the Bridgewater Canal opened connecting Warrington to both Manchester and shortly after Liverpool.
Warrington was a reasonably wealthy town and its affluent population was one of the reasons he started to distil there. The Bridgewater Canal was ideally placed to help him build the market for his quality gin.
2015; Presently distilled in Warrington, bearing the Thomas Dakin name, the distiller has well advanced plans to move production to a new artisanal micro-distillery in the centre of Manchester, making it the first gin to be distilled here.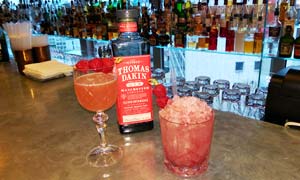 The 'Thomas Dakin' is a classic style single gin produced in small batches and attractively packaged in a square section glass bottle a-topped with a cork stopper and handwritten batch numbers.

In fact my first gin and tonic, made with this gin, was labelled 1/15.
As the evening progressed I asked our attentive barman make some cocktails using the gin. We were treated to a Bramble, one of my favourites, Manchester House's own 'Gin Fix' and the 'Aviation' all of which were delicious.
You will be able to find this artisan gin in all of the Living Venture venues across the city and probably some of Manchester's spirit focused independent bars. We recommend that you try where you see it!
Reviewed by Unlock Manchester on .
Opening Information:
Tues - Sat noon - late