[@]

Kosmonsaut - Northern Quarter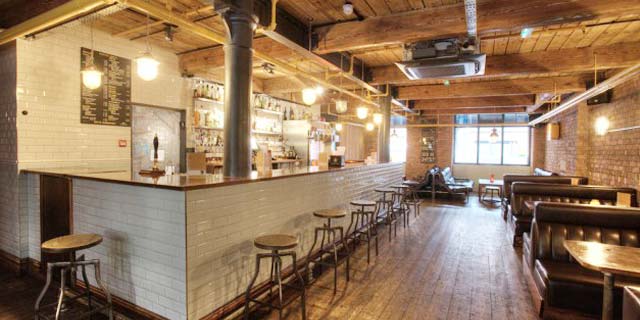 Tariff Street is an unassuming, and short, street in Manchester's Northern Quarter. Along its pathway you will find Tariff and Dale, El Capo, Takk coffee house and Kosmonsaut, not bad for a 100 meters.
Komonaut is split across two floors and it has three rooms, each of which 'feel' slightly different. The ground floor has two bar spaces both offer American dinner style seating and with casual sofas. The main bar even has two dentists' chairs, fortunately teeth pulling is not on the menu.
Kosmonaut follows the NQ model with exposed brick walls and modern style industrial lighting bulbs. It seems to have customers whenever it is open, admittedly that can be two, but by 5pm the place certainly kicks up a notch and the main bar can get full in minutes.
Downstairs you will find another large bar space which in the week usually has a full size table tennis for customers to use. This alone makes it worth a visit, if you happen to like table tennis...
This bar is not just for the young and trendy of the city, with its good offering of beers and quality wines it appeals to a more mature market who like the relaxed atmosphere.
The bar does play piped music, but it never seems to be the same. It is not uncommon to hear such segues as the Beverly Sisters and Mylo. Towards the weekend there is often a dj playing an eclectics election of music genres.
On this visit we aimed to have some food, before the Greater Manchester Fringe launch. Seated in one of the dinner seats we sipped at the house white wine and I had the very reliable Paulaner one of Munich's quality beers.
Kosmonaut stocks a good selection of pump and bottled beers and I can also recommend the Ticky-Brew pale ale, brewed by a small independent Manchester brewery.
The food offering at Komonaut is not extensive, in fact it's all one sheet of A4 paper and it entices you with starters, main course and deserts. I have tried much of this menu and I have found it to be consistently good and well presented.
This time we choose the Chicken goujons and the Goat curry. The chicken arrived on a slate board with fries, salad dressing and fried plantain (banana). The chicken was soft and succulent, the fries where crunchy and dressed with liberal helpings of pepper and salt giving a great strong spicy flavour. Even the dressing salad was fresh and crunchy and all for £8.
The Goat Curry was served in a large stainless steel dish with sticky rice, again a good portion. If you haven't tried it and you like a good flavoured curry then go for it! The goat meat was truly 'melt in the mouth' and the sauce was hot and tasty.
If you are eating you don't feel rushed, even on a busy night, this is largely because of the space, numerous tables and staff that won't disturb your experience.
Reviewed by Unlock Manchester on .
Opening Information:
Daily: from Midday
Food Serverd: Midday - 9pm