[@]

Hard Rock at Printworks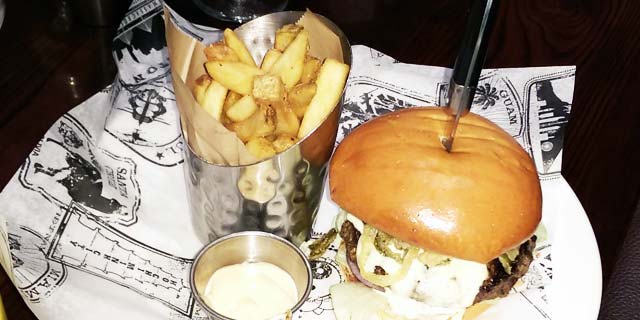 In a week that sees the 'Foo Fighters' at the Old Trafford cricket ground and 'Take That' at the Manchester Arena we couldn't think of a better time to visit the Hard Rock Cafe in the Printworks for a drink and some tasty nosh.
With its main entrance a stone's throw from Exchange Square, 200 yards to the Arena and almost next door to Victoria station it is in an ideal location to start your night. This restaurant is one of only four in the UK, the others being in Edinburgh, Glasgow and London.
Being a restaurant, bar and gig venue is not easy, however from the moment you are welcomed at the door, even this large space feels comfortable, relaxing and personal. It was clearly a busy night and we asked for a table, not having booked there was a wait, but we were given a personal pager to alert us when a table was available.
A quick nip to the bar and we bought a bottle of house white wine at £14.50, actually this was a good choice. Having tried many house wines, across the city, you soon learn that the lower cost bottles are much better for a spot of paint brush cleaning than drinking.
In fact a table became free within 20 minutes and it was long before we sat down in a booth like space with bench seats and a table.
The hard Rock has one major draw for it visitors, its collection of Rock Music, in all its genres, of memorabilia. This is not just a collection of few oddments; it is in fact a major international collection of 'real' items. For example above our table, in a clear display box, was the bass guitar that had been used and signed by Rage Against the Machine and next to it was a guitar that Rush had signed.
The walls are covered with such gems, posters, tickets, records much of it endorsed by the group or individual. Take a stroll about the venue and you will find a wealth of items and information about the Rock world and its members.
Back to the Hard Rock food, there is a large and interesting menu, with children's meal options. However, they are best known for creating an international range of burgers. Yes burgers are burgers but here they create truly gourmet ones entitled 'World Burger Tour'.
The idea is that you can experience some of the worlds flavours, associated with a country, in your burger. This includes ingredients and sauces and of course they come with Fries.
I choose the Fiesta Burger it has roasted jalapeno salsa, melted Jack cheese, freshly made guacamole, pico-de-gallo, crisp lettuce and vine-ripened tomato, to quote the menu, with a side of onion rings.
When our meals arrived they where well presented and the food seemed to take up all table space, with the sides and condiments. The burgers where excellent, cooked medium, tasty and succulent and with the right amount of pink, in the middle, so not to lose the meat's flavour.
Even after this huge amount of food we choose to share a Fudge Brownie, as it turned out this was a good sharing choice, as it was served in a tall champagne style glass that was at least 8 inches in diameter!
I can say we had a great time at the Hard Rock, the service was very attentive, the food and drink was just right for the night and it conveys a friendly and lively experience.
Canal-St VIP Card members can get a great extra bonus, a free bottle of house wine, when dining and ordering two meals.
Reviewed by Unlock Manchester on .
Address:
Hard Rock
The Printworks
Exchange Square
Manchester M4 2BS
Restaurant Opening Information:
Mon to Thurs: 12pm - 11pm
Fri: 12pm - 11.30pm
Sat & Sun: 11.30am - 11.30pm