[@]

Grindsmith - Coffee Specialists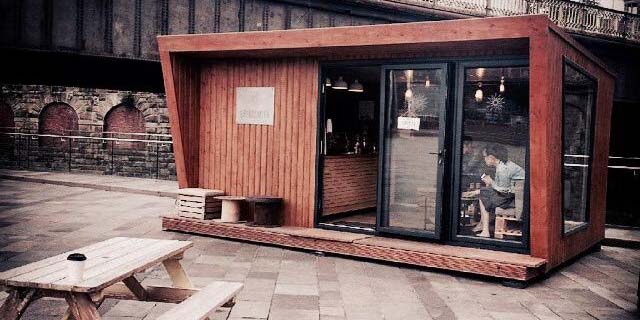 If you are not able to visit the equatorial regions of the Americas, Southeast Asia, India or Africa for your perfect cup of coffee, then worry not as it can be had, courtesy of the Manchester based Grindsmith, who opened its doors in 2014.
With two very different spaces, one in the Great Northern Warehouse, Deansgate and one at Greengate Square near Manchester Cathedral, Grindsmith is very quickly establishing its reputation, across the city, for great coffee at very reasonable prices, friendly staff and the added bonus of fast Wi-Fi.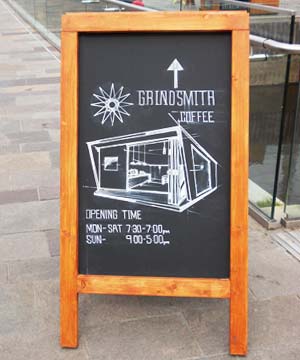 The Grindsmith Pod, in Greengate Square, looks from a distance like a glorified garden shed. However, upon closer inspection provides an intimate and comfortable space for meetings, catch ups or just passing time.

The open space adjacent, with its fountains, is a lovely spot on a sunny day to enjoy the coffee in the shadow of the majestic Manchester Cathedral.

Grindsmith at the Great Northern Warehouse, is ideally situated for the many attractions in this major Victorian Building, which in itself is home to the AMC Cinema, 235 Casino and Manchester's James Martin Restaurant.
It also houses a number of smaller and varied businesses making the Warehouse is a veritable cornucopia of interesting attractions.
The Grindsmith restaurant is a light and airy space, with comfy seating on a couple of levels and lots of little nooks and crannies, which give the place a 'Tardis' feel. Shared with another great, Manchester success 'Escaltor ' (a collection of burgeoning, mainly digital businesses), Grindsmith portrays a new, contemporary look and feel, wrapped up in the interesting Victorian construction.
Grindsmith's ethos, is serve excellent coffee, without the need to endlessly refer to the 'offerings'. The menu is sensible with a good choice of coffee styles, cup sizes with a selection of light bites and nibbles, helping to make your Grindsmith experience pleasurable and easy.
Grindsmiths, in the Great Northern Warehouse, is a regular host to short run exhibitions including work from local artists and creative's.
So with its yummy coffee and simple contemporary look, this is a comfortable space to chill or work in. If you are a coffee head then a visit to Manchester should include Grindsmith, just pop in to one of these 'not so hidden' gems, order, relax and watch the world go by.
Reviewed by Unlock Manchester on .
Opening Information:
Mon - Sat: 8:00am - 6:00pm
Sun: 9:00am - 5:00pm