[@]

El Capo's - Mexican Cuisine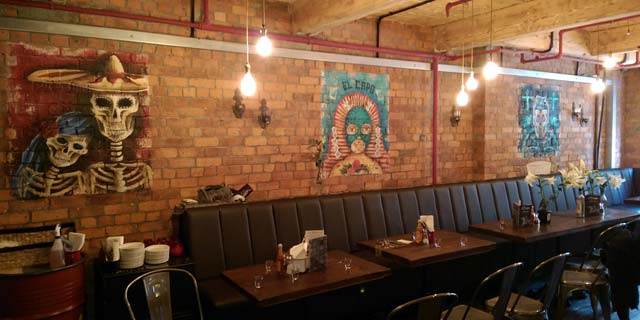 It seems we must like the Northern Quarters, Tariff Street as on a bright Saturday afternoon we are there again sampling the food and drink at El Capo. It is a self styled Mexican Tequila Cocktails and street food bar and restaurant.
El Capo's ground floor houses the main bar and offers diners tables and seating while the stairs lead you downstairs into main cantina. These spaces are bright and decorated with Mexican motifs that appear to reflect beliefs about death and the souls final journey. Don't let this put you off this styling is tastefully done and adds ambience.
You will find that El Capo's approach to clients is professional, friendly and relaxed with knowledgeable staff, who you can ask about the food and drink offerings.
If you are after a true flavour of Mexician Tequila, then you are unlikely to do better in Manchester, as El Capo pride themselves on stocking a wide selection of genuine Tequila's and will even teach you how to drink them...
Once you have tried the tequila, I suggest that move onto the Cerveza Mexicali beer, from one of the last independent Mexican breweries. Bottled and full of flavour this is an excellent accompaniment to the menu options.
Choose your table, grab a menu and prepare for a explosion of flavours and taste sensations to wake even the sleepiest bandito. With its focus on street food formalities are set aside and feel free to order the Tapas, appetisers or your main courses in any order. If you are in a large group this certainly makes it feel like communal eating experience.
We opted to share the Macho Nachos with chicken. Corn tortilla chips served with cheese, guacamole, sour cream and a hot house salsa. Or if you are feeling daring try the Caliente Mierda, check google for a translation, the El Capo Chicken Wing Challenge...
For our main courses we choose a Buritto Grande, with Colombian chicken. This was served a large plate with sour cream and guacamole. The tortilla was light and enclosed a spicy and good portion of chicken with rice, black beans and shredded vegetable with added cheese.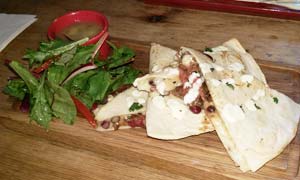 I went for the chorizo and carne asada Quesadillas, which is a toasted tortilla with added cheese and beans.

This was fabulous and the beef (carne) was succulent and beautifully cooked with a good pink middle. Any border crossing American would have been impressed.
With this much food served up we couldn't face any desserts, but like many of our favourite restaurants the offerings are true to the cuisine. On the next table the diners where getting stuck into Pedro's-Changa, a tortilla filled with spiced apples and mangos deep fried served with ice cream. The ice cream is in fact from Cheshire...
If you want to canter along at lunchtime, I would suggest that you try the 'Lunch Especials'. For just £10 (at time of writing) you can choose from any three Tapas, or any Burrita and a drink, or an Appetiser and one main. Mind if you plan on doing any work in the afternoon, maybe the tequila slammers should be left in the bottle.
El Capo's is well worth checking out for great Mexican food, friendly and inviting staff, fabulous Tequila and offers excellent value.
Reviewed by Unlock Manchester on .
Opening Information:
Sun - Wed: 12:00 – 24:00
Thurs - Sat: 12:00 – 02:30