[@]

Dimitri's - A Greek Taverna in the heart of Manchester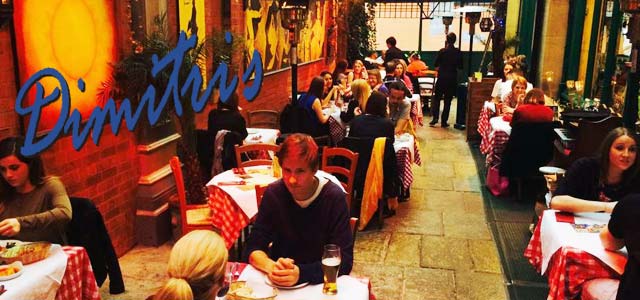 Dimitri's has been a staple of Manchester dining scene since opening its doors over 24 years ago. This Greek 'gourmet' tavern and bar is located at the end of Deangate almost opposite the iconic Beetham Tower which is home to the Hilton Hotel.
The tavern is spread across three spaces a large outdoor, but covered, terrace, inside and basement dining rooms. The bar is front of house and leads into the restaurant spaces. Even in the chill of a Manchester winter day the terrace is still reasonable warm and comfortable.
Dimiti's is extremely popular, so I recommend that you book in advance, or be happy to wait a bit and enjoy a drink in the bar before you eat. At Dimitri's you will receive a warm welcome and everyone seems to want to know how you are...
Tonight we where off to see 'Not My Day' at the AMC cinema, across the road, part of the Manchester International Film Festival and we wanted to relax and eat before the 9.15 screening.
Arriving at about 7pm we managed to get a seat in the terrace. This covered 'outdoor' space was, in fact, the alleyway between different parts of the building. Don Marco, the Italian next door, also use the alleyway for seating.
Dimitir's bright and cheery menu focuses on Greek cuisine, offering Tapas dishes, Meze and dips, Moussakas and gourmet kebabs. If you really feel hungry try the Kalamata Plata available with fish, meat or vegetarian options.
The bar is stocked with a good selection of cocktails, wine and beers. Having just got back from Prague, I selected the Kozul, a premium czech larger (it's a pity they don't stock the dark variant of this, which is very drinkable...).
We choose to go Tapas, selecting Keftedes (meat balls), Chicken Chilli, Gigantes (giant butter beans), Mariscis (mixed seafood) and a side order of pitta bread.

Each dish is a good portion size ideal for sharing and there are additional side dishes available if you want to add fries or rice etc.

Dimitiri's Tapas are presented in classic earthenware dishes complete with hot sauces.
If you're really feeling hungry then choose the Olympian mixed grill. The grill consists of Lamb chop, chicken, pork and sheek kebabs served with Loukonica and Tzatziki. If you want something other than meat the tasty salads could be an excellent choice.
Even on this Friday night, and the place was busy, we were not rushed spending a pleasant couple of hours eating, drinking and talking. Possible one of the best way to get a feel for what a restaurant is like and why we visit it regularly.
Reviewed by Unlock Manchester on .
Opening Information:
Sun - Thurs: 11:00 – 24:00
Fri: 11:00 – 02:00
Sat: 11:00 – 02:00