[@]

20th Anniversary - Manchester Jazz Festival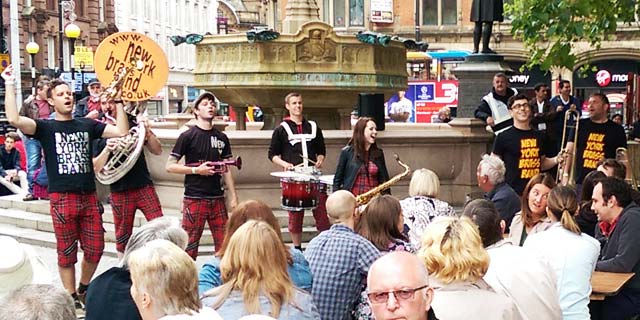 Manchester Jazz Festival is celebrating its 20th year, now a major staple of the city's annual events scene and helping to put Manchester firmly on the International music map.
Launched in 1996; actually it had a false start, deferred by two months by the IRA bomb in the heart of Manchester. While that explosion was indeed a terrible shock to the city, it appears you could suggest that this was the catalyst for major inward invest helping to develop Manchester into an international destination and brand.
One of the strengths of MJF is that it brings many independent music venues together providing a huge stage able to deliver internationally renowned Jazz players, burgeoning talents and new commissions for everyone to enjoy.
Speaking to Laurance, a student of drumming at Parrs Wood School in Didsbury, he was very excited about being able to undertake a volunteer role for the festival. It offers him, and many like him, the opportunity to experience working in a creative environment with music professionals. He is a big fan of Jazz and in fact his band performed their first professional gigs only a few weeks ago.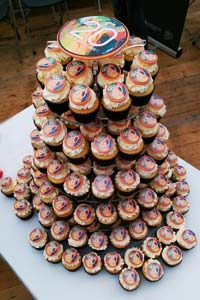 MJF 20th logo design. Working with the art foundation students at Manchester School of Art, visitors from the MJF played them pieces from artists performing during 2015.

Each student then created a piece to reflect the music they had heard. Sophie Hill's artwork was chosen to be the symbol for the 20th anniversary.

Providing opportunities for young musicians and creative's to become involved with the Jazz Festival will no doubt ensure its lasting appeal and have a positive impact on their lives.

20 Summers of Jazz, a music CD, is a limited production run. It has 15 hand-picked tracks selected to capture the spirit of the festival and many have been exclusively produced for this recording. You can buy the CD at the festivals Albert Square ticket centre and all monies raised are going directly to support the MJF.
Running from the 31st July to the 9th August you will find Jazz Festival productions happening all over Manchester including at the RNCM, Band on the Wall, St Ann's Church and the Northern Quarters Soup Kitchen and Matt & Phreds.
The heart of the festival is in the Thwaites Festival Pavilion, on Albert Square. Within the squares space there will be live performances, such as the hugely entertaining New York Jazz Band, who performed to a packed square at the opening ceremony.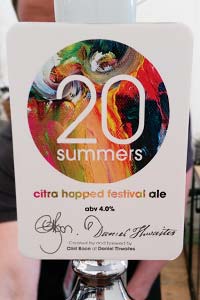 All good festivals need food and drink and the organisers have pulled together a series of experienced specialist caterers to keep you fed and watered. Thwaites have a fully stocked bar in the square and have specially created the 'Citra Hopped Festival ale'.

This is a light, read young, ale very hoppy and citrus in flavour, which personally I found it to be pleasant and drinkable, but I suspect a little more work is required to make it 'special'.

You can check our listings for further information about the Manchester Jazz Festivals performance schedule or visit their website for more information.
Manchester Jazz Festival 2015 - Tickets
MJF runs from the 31st July until 9th August 2015. Tickets can also be purchased in Albert Square at the ticket booth.
Reviewed by Unlock Manchester on .
MJF - Albert Sq
Albert Sq
Manchester
M60 2LA