[@]

The Bury Art Museum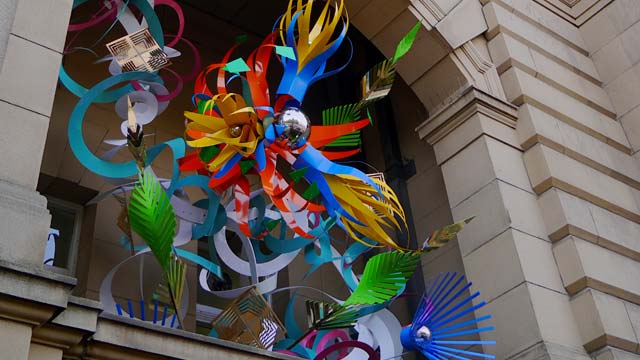 Bury Art Museum opened in 1901 as a purpose-built gallery to house and display a collection of Victorian oil paintings, watercolours, etchings, drawings, sculpture and Wedgwood plaques formed by local paper manufacturer, Thomas Wrigley.
In 1897 Wrigley's children had donated this collection to the people of Bury. In 1907 a social history museum was added to complement the Art Gallery.
Over the last century, Bury's art collection has developed, but its outstanding strength remains the collection of 19th century British art, including works by Turner, Constable, Landseer and Clausen.
Since 2000 the Gallery has embarked on an ambitious programme of commissioning contemporary art. The building itself is now a grade II listed building and regarded as the finest in the town.
In 2014 a sculpture gallery was added and allows the Gallery to continue to develop its ambitious programming and further its portfolio of International work; exhibitors include Lawrence Weiner, Auke de Vries and Jayne Dyer.
Through its temporary exhibition programme, Bury Art Museum & Sculpture Centre is developing a reputation as a leading player in showing contemporary art in the North West of England.
The gallery's aim is to show high quality art in new contexts and to make it understandable for people of all ages, no matter what their background. The Gallery broadens its appeal to new audiences through its programme of workshops and educational activities.
The continually changing exhibitions at the Gallery, along with the fruitful working relationships that have been developed are establishing Bury as a significant venue for experiencing art.
It is also fast becoming a place for international exchange in the visual arts, facilitating a mind-broadening encounter with art from diverse sources.
As well as the excellent progamme of exhibitions and events, visitors to Bury Art Museum & Sculpture Centre can also enjoy a unique shopping experience in Bury Art Shop and relax with lovely refreshments at Tina's Tearoom.
Bury Art Shop stocks contemporary arts and crafts by local and national artists and craft makers selected for their quality and beauty.
The gallery is part of the 'Own Art' which is a scheme supported by the Arts Council England and makes buying contemporary art more affordable for all.
Tina's Tearoom is a welcome addition to Bury Art Museum & Sculpture Centre, found on the beautiful ring balcony of the central building. Serving coffee, a selection of teas, soup, freshly made sandwiches and a tempting selection of cakes and afternoon tea.
The gallery is located in the town centre and it is 50 yards from the bus and Metrolink interchange.