[@]

Bury Town - Greater Manchester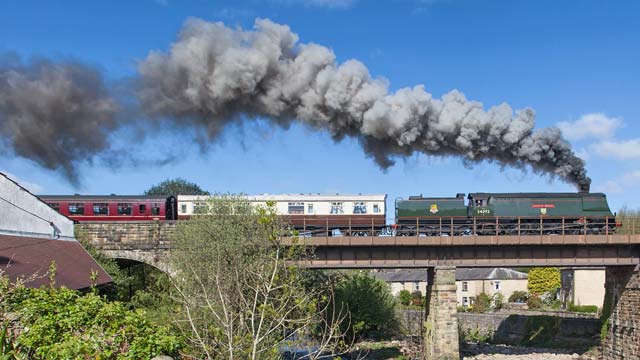 East Lancashire Railway
This post-industrial town offers lots for the Visitor to enjoy and experience
Bury Town is a suburb in Greater Manchester and is easily reached from Manchester City centre in less than 30 minutes on the tram or by car.
A trip to Bury can be very rewarding there are many attractions that should visited and certainly experienced such as the beautifully restored East Lancashire Railway. Its 12-miles of track explores the stunning local scenery, other local towns such as Summerseat and passes some great real-beer pubs.
There are three excellent museums, the Art and Sculpture Centre in which its galleries you will discover pieces from Victorian artists such as William Turner right through to modern art pieces by the likes of Lawrence Weiner and Jane Dyer.
The Fusilier Museum, next door, delves into over 300 years of regimental military history. This excellent museum is home to the collections of the XX Lancashire Fusiliers, renamed to the Royal Regiment of Fusiliers in 1968. The regiment was established in 1688 and the museum tells its story right up to the present day.
The third is the Bury Transport Museum and in its halls you will discover the industrial heritage of the northwest, brought to life before your very eyes. With its collection of stunningly restored vehicles, original artefacts and interactive exhibits you can explore the working lives of people from the early 20th century.
A Historic Town
You may be surprised to learn that Robert Peel, who formed London's Metropolitan Police Force, was born in Bury. He was also the founder of the British Conservative Party and was twice British Prime Minister.
Outside St Mary's, the towns parish church, you will find an attractive square, which was originally home to the village market, and at its centre is a large statue of Robert Peel. This 3.5m high bronze was created by Edward Hodges, who also made the statue of Lord Nelson in Trafalgar Square, London.
This is the highest point in the town and there has been a church on this site for over 1000 years.
The present church is Victorian in date and is worth peeking into to have a gaze at the highly decorative floor. Take a short walk around the gardens that will reveal large memorial slabs that have been repurposed as flagstones. Reading these will give you an insight into the history of the people in Bury.
An Award Winning Town
Summer is a lovely time to visit Bury as you will find it decked out with ornamental flower displays and hanging baskets galore. The town is a multiple time winner of the coveted 'Britain in Bloom' award.
An evening in Bury can be very appealing with several good pubs serving quality food and drink. The Clarence, on Silver Street, offers good fayre and for those real beers enthusiasts they should try the Silver Street 'Session' pale ale. This, and a few other tipples, is brewed in the pubs basement.
Once you are fed and watered you may choose to attend a performance at The Met. This is the performance heart of the Town and its stage is home to touring shows and local productions alike.
During 2016 The Met started on a £4.6 million refurbishment making it one of the best theatres in Greater Manchester. With improved access, an enlarge auditorium and a new bar. What's not to like?
Bury has a world famous, not to mention very popular, market that is open from Monday to Saturday each week. It has been voted 'Market of the Year' on four separate occasions.
A huge fire engulfed the old buildings in 1968, totally destroying them, but this didn't stop the traders though and in 1971 the present building was opened. Today in it you will find fresh local produce, a hall specialising in Fish and Meat and an outdoor open market with over 300 stalls to tempt you.
The Rock is the main shopping centre that offers shoppers several high street brands. At night it becomes a playground with restaurants, a 24-lane bowling alley and multi-screen cinema to keep you entertained.
Read on to learn more about this remarkable town and why it's worth the short trip out of the City Centre.
The Met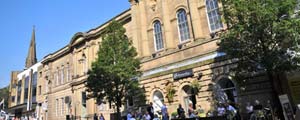 Visit 'The Met' websiteLocated in the centre of Bury, on Market St, its performances spaces are used to bring live music and theatre productions to enthusiastic audiences.

There are two spaces the main theatre and the more intimate studio. These are complemented with a full service restaurant called The Automatic and a recording studio on Edwin Street.
The 2016 investment plan is bringing new facilities for the audience and performers alike. This is a major refurbishment of the venue enabling them to present a bigger programme of events.
One of the spin-off events that The Met organise is the successful Ramsbottom Festival, held annually in September. This 3-day music festival sees its stages packed with music groups and artists.
Bury Market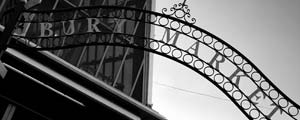 Visit 'Bury Market' websiteThis is one of the busiest markets in the country and it is open everyday serving the people of Bury. Well worth a stroll around as a visitor to gaze at the sheer variety of produce, fish and meats for sale.

The New Market Hall is a very striking building with its 'bird-wing' roof. It is home to over 60 indoor stalls offering a wide selection of services and goods.
Experiencing the Fish & Meat Market in full 'theatre' mode is quite something with stall holders shouting their wares and deals of the day!
Monday to Saturday – From 9am
Check website for full details